BACKGROUND[5]
In 1993, Globe Telecom was one of the first two companies granted licenses under Executive Order 109. At this time, Globe began its long uphill crusade against the goliath Philippines Long Distance Telephone Company. Prior to 1993, Globe Telecom was an international data carrier allowing it to offer telephone and telegram services. Globe Telecom traces its roots back to the 1920s, descending directly from Dollaradio, a ship-to-shore radio and telegraph company later renamed Globe Wireless Limited (GWL). Globe is also heir to Philippine Press Wireless, Inc. (PREWI), founded to advocate independence in the Commonwealth era, and Clavecilla Radio System (CRS). A merger between GWL, PREWI, and Mackay Radio Telegraph established Globe-Mackay Cable and Radio Corporation (GMCR) in 1930. When GMCR sold 60% of its stocks to then Ayala and Co. in 1974, it had already been strengthened by this colorful history of partnerships. In the 1990s, GMCR and CRS merged to form GMCR, Inc., later renamed Globe Telecom, a leading telecommunications company offering domestic and international services.[6]
In 1993, Globe Telecom partnered Singapore Telecom International (SingTel). This partnership gave SingTel a 40% ownership in Globe Telecom (maximum allowed by Philippine law) and gave Globe Telecom the capital and expertise to grow in the burgeoning Philippine telecommunication environment.
In March 2001, Globe Telecom acquired Islacom as a wholly owned subsidiary. This acquisition brought many benefits to Globe Telecom including a new global partner— Deutsche Telekom, access to additional frequency spectrum, enlarged geographic landline access, and economies of scale cost savings capabilities. With this acquisition, the current capital structure of Globe Telecom is shown in Figure 2.
Source: Philippine SEC 17-Q 1Q 2002 Report, http://www.globe.com.ph
Figure 2:

Ownership Structure of Globe Telecom
Where AC is the Ayala Corporation, STI is Singapore Telecommunication International, DT is Deutsche Telekom, and Public is the remaining shares available to public investors.
Globe is now a full-service telecommunications company offering cellular mobile telephone system (CMTS), fixed telephone and international communications services, International Private Leased (IPL) lines, Internet access, VSAT (Very Small Aperture Terminal) service, Inter-Exchange Carrier service, Frame Relay, Value-added Network Services (VANS) and other domestic data communications services.
Like any modern corporation, Globe Telecom is driven by a vision. Globe's vision draws upon its mission and value statements. It stresses their desire to be viewed as a solutions company that is best in its class. The full text of Globe Telecom's vision, mission and values statements can be found in the appendix (see Exhibit 4). Globe's mission statement supports their vision by suggesting what is important to them. Their goal is to improve the quality of life to the following identified key stakeholders: customers, shareholders, employees, community, and government. While many companies create vision and mission statements, few make them publicly available. Globe has made these principal statements as well as their core value statements available via their Internet Web site. Their value statements help to keep them focused on a few set of core competencies that include commitments to customers, employees, integrity, excellence, teamwork, society, and the environment.
The managing structure of Globe Telecom is congruent with any modern corporation. They are lead by a board of directors and a balanced executive management team (see Exhibit 5). Globe's achievements in recent years have prompted the company, during its 2001 annual stockholders meeting, to request that the Board of Directors be increased from the present 11 to a total of 15. Growth in boards is typically due to successful growth of the company; as a company grows, diversifies, and enters new markets additional board member are usually brought on for their insights. More recently, in the December 27, 2001–January 3, 2002 issue of Far East Economic Review, Globe Telecom made its debut appearance in the top ten best businesses, landing at number six in both leadership and quality.
Globe's primary revenue generator is their wireless product division. Wireless sales made up 82% of its 2001 revenue, followed by their wireline division and their carrier service. Figure 3 shows the breakdown of Globe Telecom's revenues between its three major divisions.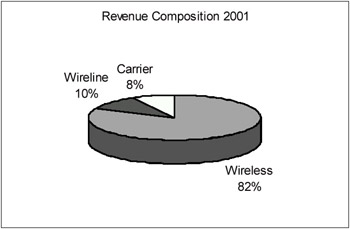 Source: Globe Telecom 2001 SEC Filings
Figure 3:

Globe Telecom Revenue Composition for 2001
In 1999, Globe Telecom quadrupled their wireless subscription base. In 2000, Globe continued rapid wireless growth and nearly tripled its numbers of subscribers to more than 2.5 million users. This rapid pace continued as Globe nearly doubled its wireless subscription in 2001. Globe Telecom's wireless subscription base for the previous six years is shown in Figure 4.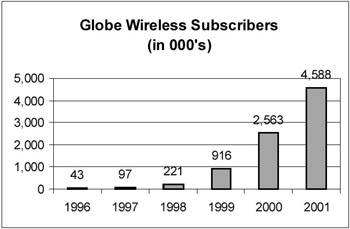 Source: Globe Telecom 2001 Shareholders Reports and SEC Filings
Figure 4:

Globe Telecom Wireless Subscribers, 1996–2001
Figure 5 shows that, despite the Asian Flu, Globe Telecom has been able to double its revenue consistently for the past five years, largely due to its growth in its wireless offerings. This increase in revenue has led to a share value increase of 27% for fiscal year 2000, even as the Philippine Stock Exchange Index declined by 30%.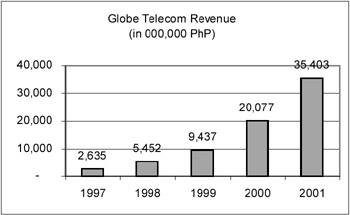 Source: Globe Telecom Shareholders Reports
Figure 5:

Globe Telecom Revenue, 1997–2000
[5]All data used in this case came from publicly available sources and the management team of Globe Telecom has not been consulted for the analysis or conclusions stated in this case study.
[6]http://www.globe.com.ph.