If you are working on a large worksheet, it can be time consuming and tiring to scroll back and forth between two parts of the worksheet. You can split the worksheet into four panes and two scrollable windows that you can view simultaneously but edit and scroll independently. As you work in two parts of the same worksheet, you can resize the window panes to fit your task. Drag the split bar between the panes to resize the windows . No matter how you display worksheets, Excel's commands and buttons work the same as usual.
Split a Worksheet in Panes
Split . Click the Window menu, and then click Split.

Remove Split . Click the Window menu, and then click Remove Split.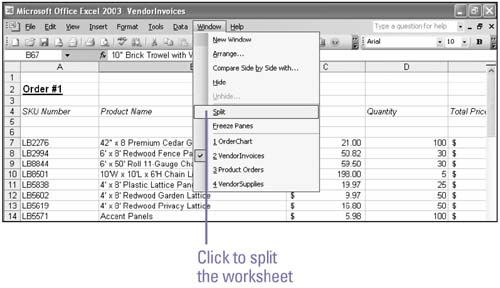 Did You Know?
You can search for a value or data in a cell , and then replace it with different content . Click the cell or cells containing content you want to replace. Click the Edit menu, click Find, and then click the Replace tab for additional options.