Gimp-Print (http://gimp-print.sourceforge.net) is a package of printer drivers that is bundled with Mac OS X Tiger. The Gimp-Print drivers support printers from Epson, Canon, Lexmark, HP, and others. In many cases, drivers for these printers are not available from the printer manufacturer themselves. Even if drivers are available, the Gimp-Print drivers are often of better quality than those offered by the manufacturer.
| | |
| --- | --- |
| | If you are using a version of Mac OS X prior to Panther, you'll need to download the drivers from the Mac OS X Gimp-Print web site (http://gimp-print.sourceforge.net/MacOSX.php3). |
Figure 6-17. Choosing from the available drivers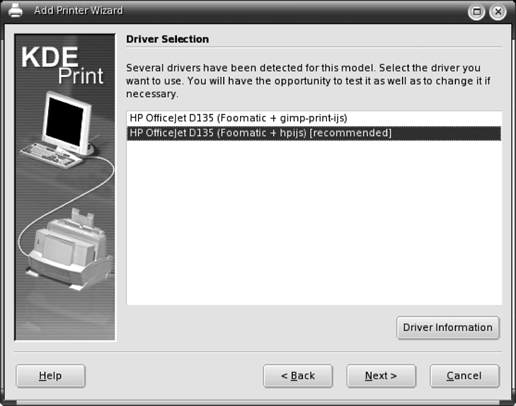 6.3.1. HP InkJet Server (HPIJS) Project
The Hewlett-Packard InkJet Server (HPIJS) Project is a collection of drivers from Hewlett-Packard that has been released as open source software. Although HPIJS was originally released for Linux, it has been ported to Mac OS X (http://www.linuxprinting.org/macosx/hpijs/). HPIJS supports over 200 Hewlett-Packard printer models.
Although Gimp-Print is included with Mac OS X Tiger, if you find both a Gimp-Print driver and the HPIJS driver we suggest that you try both and compare the quality. For example, the only Gimp-Print driver we found for the Hewlett-Packard OfficeJet d135 was the HP New DeskJet Series CUPS v1.1 that came with Mac OS X Tiger. It supports neither duplex printing nor the higher resolutions that this printer model is capable of. However, the HPIJS OfficeJet D135 driver supports these higher resolutions and duplex printing.
Figure 6-18. Printing to your Macintosh's shared printer from Ubuntu Linux