Now you and your computer are ready for Linux. If you re a Linux expert (or want to be), you re probably logging in from the command-line interface, as shown here:
 Red Hat Linux release 9 (Shrike) Kernel 2.4.20-8 on an i686 RH9Test login:  username  Password:  Last login: Wed Mar 19 15:33:00 on tty1 [  username  @RH9Test  username  ]# 
Now you re ready for a command-line interface, which is the main focus of most of this book.
Alternatively, if Linux is relatively new to you, you might be logging in at a graphical login prompt, such as the one shown in Figure 3.77.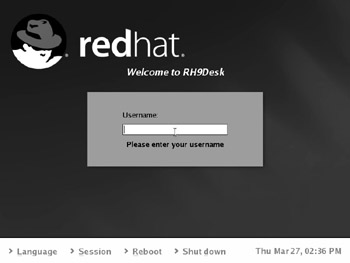 Figure 3.77:

Graphical Login Screen
Many Linux administrators take full advantage of the graphical user interface. The default Red Hat GUI is GNOME (GNU Network Object Model Environment). It s easy to start a command-line interface in GNOME. Right-click on any open area of the desktop, and select New Terminal in the menu that appears. This opens the default GNOME terminal command-line interface, shown in Figure 3.78.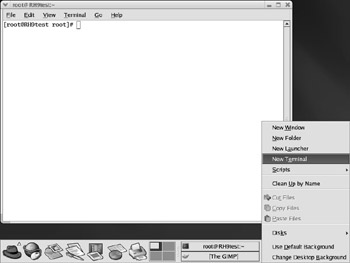 Figure 3.78:

GNOME with a command-line terminal
Now you re ready to learn all about Linux!