You can use the Red Hat Linux 9 installation CDs to upgrade from versions 6.2 and above. There s a special issue if you re trying to upgrade a version of Red Hat Linux with Ximian GNOME. If this is your situation, Red Hat recommends one of the following options:
If you currently use Ximian GNOME, upgrade to Red Hat Linux 9, and don t take one of these actions, Red Hat warns that GNOME will be unstable.
Making an Upgrade
Upgrades start in the same way as a regular installation. The issues with booting Anaconda from a CD or a floppy don t change. The first few steps of a graphical installation are the same. The first place we diverge from a regular installation is just after configuring a mouse. If Anaconda detects a previous version of Red Hat Linux, it will identify it in the Upgrade Examine screen shown in Figure 3.79. We ve activated the Customize Packages To Be Upgraded option.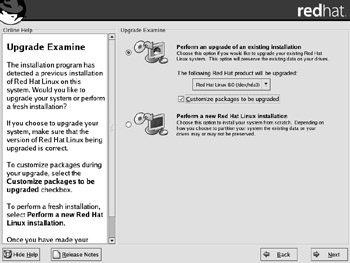 Figure 3.79:

Finding an earlier version of Red Hat
Click Next to continue. The following screen allows you to update your bootloader from a previous version of GRUB or from LILO. As you can see in Figure 3.80, you can skip the update process or create an entirely new bootloader configuration. Make your selection and click Next to continue.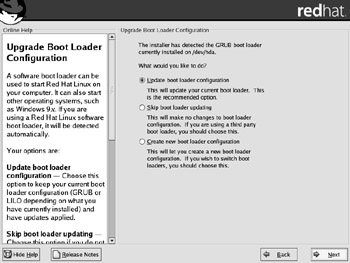 Figure 3.80:

Upgrading the bootloader
Now Anaconda takes some time to examine the packages currently on your system. It goes through the list, looking for packages to upgrade. If you ve enabled the Customize Packages To Be Upgraded Option earlier, the next step takes you to the Individual Package Selection menu, shown in Figure 3.81. You can browse through the menus ; packages with a check mark are to be upgraded.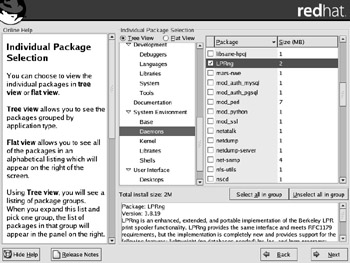 Figure 3.81:

List of upgraded packages
In this case, the only daemon that requires upgrading is the LPRng, which is the older Line Print Daemon. As you can read in Chapter 25 , CUPS is the new default print service. Therefore, you can make a decision on upgrading that package. Make your choices and click Next to continue. If there are dependencies, you ll get a chance to look at them, in the same way as with the regular Anaconda installation process (this screen is shown back in Figure 3.51 ). Otherwise you ll see the About To Upgrade screen, shown in Figure 3.82. When you re ready, click Next to continue and start the upgrade.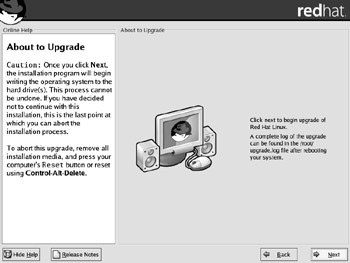 Figure 3.82:

Ready to upgrade
The upgrade proceeds as if it were an installation. The process is relatively short; if you ve upgraded from a relatively up-to-date system, Anaconda may end up upgrading a small number of packages.
If the upgrade affects any services with configuration files, you should be able to find the original configuration files with an .rpmsave extension. For example, if your upgrade affects the Apache web server, you should see the original httpd.conf file in the /etc/httpd/conf directory saved as httpd .conf.rpmsave .
Once the upgraded packages are installed, you re prompted to create a boot disk. This is needed especially if Anaconda has installed a new kernel during the upgrade process. Follow the remaining prompts, and click Exit when you see the Congratulations, The Installation Is Complete message.