Tutorial: Restoring a Server Using Retrospect Disaster Recovery CD: "The Short Way"
Retrospect allows us to create a custom, bootable CD which contains all information necessary to restore a server without having to completely reinstall its operating system. To perform this type of restore, you will need a CD burner and software capable of burning ISO CD-ROM disk images. A good product for this is Roxio EZ-CD Creator (http://www. roxio .com). You also need your Windows Server 2003 installer CD.
In order for the disaster recovery CD to work, you must have performed a backup of DC02 , which we have done. The disaster recovery CD uses this backup information to restore the domain controller to a working state.
Insert your Windows Server 2003 installer CD in DC02 . Dismiss any installation dialog boxes that may appear. Open Retrospect . In the left column, click Backup . In the right column, click Disaster Recovery .

Retrospect presents you with a window asking you to choose a snapshot and backup set from which to restore data. By default, the most recent snapshot is listed. Click this snapshot and click Next .

Select the option labeled CD-R disc image and click Next .

You are asked to enter your product key for Windows Server 2003. This is the number that you entered when installing Windows Server 2003. Retrospect uses this to install a "bare-bones" version of Server 2003 in which it can function. Enter the number and click Next . Confirm that the number is correct and click OK .

When prompted for the location of your Server 2003 installer CD, click Next . When asked for a location in which to save the ISO CD-ROM disc image, click Browse and navigate to the separate hard drive. In our example here, our separate drive is drive E. Click Save and Next . Retrospect builds the recovery CD.

Click Done when the process completes.

Exit Retrospect . Now burn the ISO CD-ROM image to a real CD using your CD burning software.

Let's assume that DC02 has gone down, and there is absolutely no chance of reviving it. This is where our disaster recovery CD comes in very handy. As with the previous restore method, all data on DC02 will be erased and replaced with the contents of the backup

Boot DC02 from the recovery CD. When asked where you would like to install Server 2003, choose the C drive and hit Enter . The CD proceeds to install a very basic version of Server 2003.

Once the server reboots, the Retrospect disaster recovery window appears. Click OK to dismiss the window. The Retrospect Disaster Recovery Wizard appears. It allows you to select the snapshot in which to restore DC02. The default setting is the most recent snapshot that we specified when we first created the recovery CD. You can choose other snapshots (or backup sets) by choosing the appropriate options. For this tutorial, we use the default option. Click Next :

In the list of drives to restore, choose the C drive and click Next . Click Next again.

Retrospect proceeds to restore your data. Click Finish once the first leg of the restore completes. The computer restarts.

Log in as administrator. Retrospect completes its second leg of the restoration process. Reboot again.

Log back in as administrator. Retrospect completes its third leg of the restoration process. Reboot once more ( Note: if you receive any error messages about a failed NTDS restoration, click OK ).
DC02 is now fully restored.
There is one drawback to creating a disaster recovery CD. You must keep the CD up to date if any of the following applies to your backup strategy:
You perform a recycle or new media backup.

You perform a backup to a different backup set than that of the backup set referenced in the disaster recovery CD.

You change the hardware configuration of the server being backed up.
The first two points are obviously going to be quite common in any backup scenario. Therefore, it is wise to keep your disaster recovery CD ISO images up to date. If the server being backed up should happen to fail, you need only burn the most recent ISO image to restore your server, getting things back up to speed ( Note: it's always a good idea to store the ISO image on a hard drive that is not connected to the computer running Retrospect ).
Other Miscellaneous Retrospect Backup Operations
Like ntbackup, Retrospect allows the administrator to schedule backups . For example, when configuring an immediate backup, you may also click the Schedule button in the bottom right of the window. This allows you to tell Retrospect when to run a backup, and what type of backup to run.
You may also choose to restore only certain files from a backup, as well as search an unlimited number of backup sets for specific file names , something that ntbackup does not let us do. These options are accessible by clicking Restore on the left side of the Retrospect main window.
If you have multiple domain controllers and need to keep them all centrally backed up, a good strategy is to install Retrospect Multi Server onto one Windows PC and designate it as a backup server. You can then back up your entire complement of domain controllers over your network. This is accomplished by installing a small, non- intrusive program called the Retrospect Client on each domain controller. Each domain controller is then added to the Retrospect Multi Server's backup client database , where each is then backed up over the network ( Note: having a fast network structure is very important for this strategy to work efficiently ). You may then create disaster recovery CDs from a single computer (the centralized backup server) at any time, for any of the domain controllers, even if one of your backed up clients fails. You simply run the Disaster Recovery wizard on the Retrospect Multi Server and create a custom CD for any of the domain controllers in the backup client database: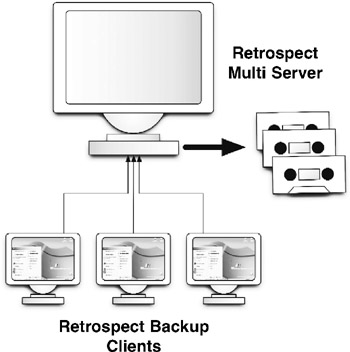 Of course, there's one caveat: cost . Many of Retrospect's features that we have been using in these tutorials, such as Open File Backup (allows Retrospect to back up files that are open and in use, such as operating system files) and the Disaster Recovery CD , are available only when purchasing specific "add-ons." These add-ons can increase the price of Retrospect by several hundred dollars.
Keeping up to date with new releases of Retrospect is another cost consideration. For example, let's say that you purchased Retrospect Multi Server 6.5 along with the Open File Backup and Disaster Recovery add-ons. When Dantz releases the next version of Retrospect Multi Server (i.e., version 7.0), you not only must pay the upgrade fees for 7.0, but you must also upgrade the two add-ons. Even with discounted upgrade pricing on each product, this whole process can get expensive, as you are having to upgrade three products instead of one.
So which is the best way to go: ntbackup or a third party backup utility? The one glaring disadvantage of any third-party backup software is that it is an extra expense, unlike ntbackup. It all comes down to cost versus risk . We'll leave you with this parting thought: If all your data is lost and you are unable to retrieve it, an included (albeit free) backup utility has just cost your company (and you) plenty .
Chapter (and Book) Summary
In this chapter, you have learned about:
The risks computer viruses pose, and some of the ways in which you can safeguard your server and clients from the dangers that they pose

Two backup programs, ntbackup and Retrospect Multi Server, and how to configure them to back up your server
We have given you the tools you need in order to set up and maintain a working Active Directory network based on Windows Server 2003. We thank you for choosing Active Directory by the Numbers: Windows Server 2003 as your guide in learning about this fascinating, and sometimes daunting, topic. We hope that you have enjoyed your stay, and we hope to see you grace the pages of our books again in the future.