Because no two users work quite the same way, Photoshop Elements gives you the freedom to customize its tools and palettes to suit your own personal work habits, expertise, and aesthetic. You can create favorite sets of brush types, swatch libraries, and patterned fills, and you can set preferences for save options, transparency, ruler units, and grid color. Slightly more advanced options help you to set the ways the program manages memory, and the ways it works with your monitor and printer to display and print color. Additionally, since it supports Adobe's plug-in file format, Photoshop Elements can be a constantly changing and evolving tool, as you add new plug-ins for everything from custom filter effects to digital camera image browsers.
Setting preferences
Preferences are settings that let you control and modify the way that Photoshop Elements looks, works, and behaves. The Preferences dialog box is divided into a series of windows, each one focusing on a specific aspect of the application: general display properties, file saving options, cursor display and behavior, transparency settings, rulers and units of measurement, grid appearance and behavior, cache levels for managing memory, and display settings for the file browser (Figure i.1). You can change preferences at any time by choosing Preferences from the Edit menu or by navigating through the dialog box using the drop-down menu (Figure i.2).
Figure i.1. You can customize Photoshop Elements' tools, palettes, and settings within its series of specialized Preferences dialog boxes.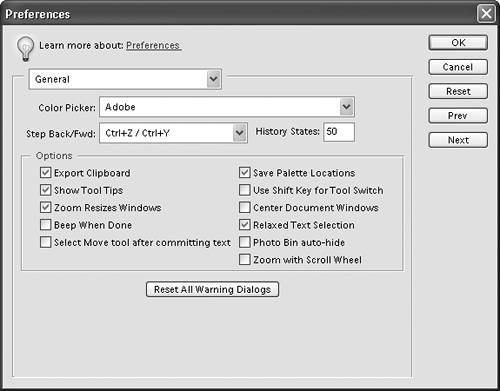 Figure i.2. Move from one Preference dialog box to the next by choosing different options from the drop-down menu.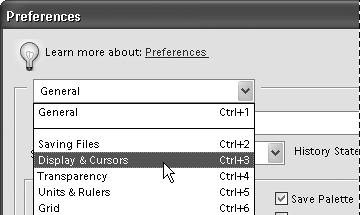 About presets
Presets are collections of brush styles, swatch colors, gradient fills, and patterns organized into sets, or libraries (Figure i.3). At any time during your work session, you can load different preset libraries using either the Preset Manager, or the palette menus on the options bar or Swatches palette.
Figure i.3. The Preset Manager allows you to load custom brushes, color swatches, gradients, and patterns.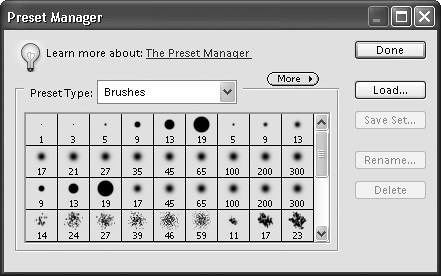 About plug-ins
Photoshop Elements makes great use of Adobe's extendable plug-ins format. Plug-in modules are little software programs that add functionality to the main application. For instance, the different filters and effects that you access from Photoshop Elements' Filter menu are all plug-in modules. Plug-ins are stored inside a Plug-ins folder, where additional plug-ins can be added at any time.
Plug-ins are worth special mention because you aren't limited to just those included with Photoshop Elements. In cooperation with Adobe, developers of both software and hardware have created compatible plug-ins that install and run seamlessly with Photoshop Elements. If you've recently purchased a digital camera or scanner, its browser or scanning software may very well include plug-ins to help the devices communicate with Photoshop Elements.
Downloading Plug-ins
To download additional plug-ins from Adobe, first make sure your computer is connected to the Internet. In Photoshop Elements, choose Help > Photoshop Elements Online to view an updated collection of plug-ins and other downloads available for purchase.