A New Kind of Shy "Guides
After Effects 6.5 gives you better control over designing with templates or guides. It is now possible to have an overlay or template layer enabled in the Timeline and if you flag it properly, AE will skip it for the final render.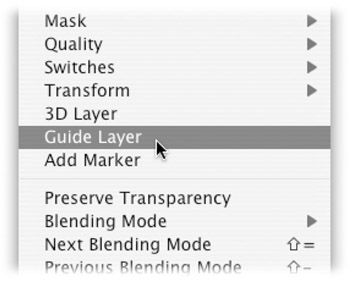 Guides are useful to ensure the placement of key design elements. You can use any type of layer as a guide if it helps.
Highlight the intended guide layer in the timeline.

Choose Layer>Guide Layer.

A new icon appears to indicate a guide layer is in use.

In the render settings dialog box, be sure to set guide layers to All Off.