Photoshop & Illustrator Convert
Have you ever imported a PSD file as footage and then had second thoughts? Maybe it would have been to have layers after all. Or part way through an animated logo, the client wants you to break off pieces and animate them individually.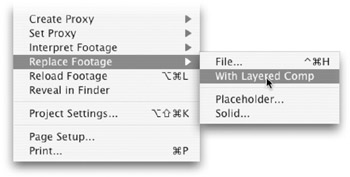 After Effects 6.5 has a new answer just for you:
If you want to do a global replace throughout your project, choose File>Replace Footage>With Layered Comp.
OR
If you want to replace a flattened file with a layered one at a local level, select the layer and choose Layer>Convert to Layered Comp.
Change takes time (at least a little). Give After Effects a few moments to catch up.