If you create (or are given) a SWF file to import, After Effects can bring it in like any other footage file via the import box, but there are a few gotchas.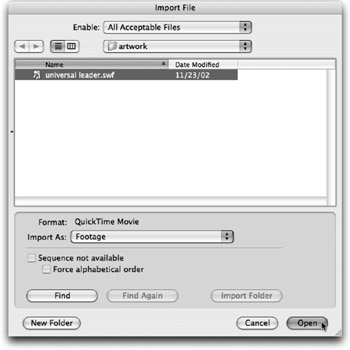 Be sure you have the latest QuickTime installed as AE uses QuickTime to rasterize the Flash file.

Make sure the file was published as Flash 5. The newer Flash MX files are not compatible.

AE sees the footage as Raster, which means you can't scale it up very well. You are best off opening the SWF or FLA file in Flash and sizing it there. Republish to make the Flash move self-contained.

Profound Effects (http://www.profoundeffects.com/) has an awesome SWF importer that allows you to bring the files in as vectors. Its part of their Useful Things package.

Remember, most Flash animation is built at 8 or 12 frames per second for faster downloads. It will look choppy when cut into a video frame rate comp.