Here are quick tips for saving Illustrator files.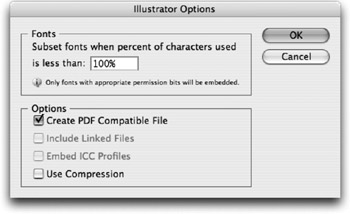 When saving Illustrator files, select the Create PDF Compatible File option in the Illustrator Native Format Options dialog box so that Adobe Illustrator files display correctly in AE.

Save your files in the AI format to make sure layers rasterize properly.

If you plan to work with Zaxwerks Invigorator, you'll need to save an AI v.8 file. Under Illustrator CS choose File>Export and choose Illustrator Legacy from the drop down menu.