My Picture Got Panned!
Have you ever tried to pan an AE camera from left to right? If so, you've probably animated its Position so that it moved across the X dimension (or Y, if you're panning it up and down).
When you viewing your comp, you may be surprised to see that the camera move is a curvy path -not a straight left to right pan. Although the Position is changing, this is because, the Point of Interest is staying in the same place.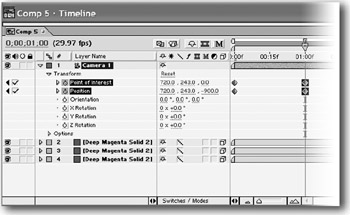 Cameras always point towards their Point of Interest, and as the camera moves, it turns to face its Point of Interest, which is what creates the curvy motion. To get a straightforward pan, turn the stopwatches on for both the Position and the Point of Interest properties before animating Position.
You don't need to animate Point of Interest. Just turn on its stopwatch on. Then, as you move the camera (animating its position), AE will automatically keyframe Point of Interest for you.