What's Your Point?
Do Points of Interest (on camera and light layers ) confuse you? They're not that hard to understand. A camera or light's Point of Interest is a spot in 3D space (with an X, Y and Z position) where the camera or light is pointing. On the other hand, the camera or light's Position is where it's pointing from.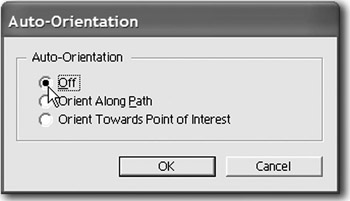 Still, confused ? Okay, well, then you might want to get rid of the Point of Interest altogether.
Select your camera or light layer and then choose Layer>Transform>Auto- orient from the menu.

In the Auto Orientation dialogue, select the Off option. Now your camera or light will simply point at whatever it's rotated towards (adjust the Orientation and Rotation properties to change what the camera or light is pointing at).
Although normally the camera's Point Of Interest will move when you drag the camera around in the Comp Window, if you hold down the Command (Control) key after you start dragging the camera, you'll adjust only the camera's position while its Point of Interest remains where in place.