Overview
There are several ways to incorporate 3D into an AE Comp: you can cheat and use one of the perspective effects, like Basic 3D; you can use a plug-in with a built-in 3D engine, like Zaxwerks 3D invigorator or Shatter; you can import data from a 3D application, like Maya or 3D Studio Max; or you can animate with After Effect's built-in 3D engine, which is the focus of this chapter.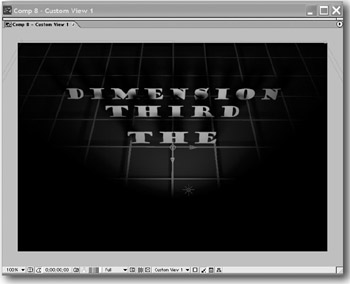 After Effect's 3D engine is sometimes referred to as "2.5D," or "postcards in space," because 3D layers have no depth (or extrusion ). They are flat layers that can occupy and move around in 3D space, but if you turn them on their sides, you will see that they are flat like postcards.
Keeping this limitation in mind (or even using it to your advantage), you can use AE to generate beautiful, stylized effects, such as animations that look like popup books or text that flies off a printed page.