So many documents, so little time. It seems like today, more than ever, the small business owner has little quality time to devote to basic business research and long-range planning. Sure, in larger companies, entire departments probably exist that search out books and articles about important trends and then create fancy new business and marketing plans, but what small business employee has the time to do that?
If you can relate to this common complaint, you're probably in the target audience for Microsoft's newest productivity tool: Microsoft Business Planner. Although Business Planner can't actually read the articles for you, it can help you collect the business documents that you need to read, and it offers a wealth of contact information to keep you connected to small business resources in your local community and on the Internet. In addition, Business Planner can help you create business plans and marketing plans by using wizards that are specifically designed for the small business owner and employee. In this section, we'll introduce Business Planner and describe how you can use it to manage one of your most valuable resources: knowledge.
NOTE

---

Microsoft Business Planner is one of the four small business tools in Office 2000. If you haven't installed this program yet, do so now by inserting the Small Business Tools CD in your computer (or locating the proper folder on the network) and running the Office 2000 Setup program.
Getting Started with Business Planner: The Interview Wizard
When you start the Business Planner application the first time, you're greeted by the Personal Interview Wizard, which asks you a series of questions about your business. The purpose of this interview is to allow Business Planner to assemble a relevant recommended reading list for you and prepare the proper templates and wizards that you'll need. The answers to your questions are completely confidential, and they remain on your computer at all times. You can also skip this interview process if you're just looking around Business Planner— to run it again, click Personal Interviewer on the Go menu.
To run the Personal Interview Wizard, follow these steps. By answering the questions fully, you will tailor Business Planner to your own business interests.
Click the Windows Start button, point to the Programs folder, and then click Microsoft Business Planner. Office starts the Business Planner application. If this is the first time you've started Business Planner, the Personal Interview Wizard will start up automatically. If you've already been using Business Planner and would like to run the wizard again, click Personal Interviewer on the Go menu. The opening screen of the Personal Interview Wizard looks like this:

Read the brief introductory message, and then use the vertical scroll bar to scroll down the document and answer the interview questions. Specify your business name (if applicable), the type of business you own (sole proprietorship, partnership, Chapter S corporation, Chapter C corporation, or limited liability company).
Specify your business address and the name of the owner or CEO. Answer the questions about business ownership, franchises, and where your business is located.
Provide the necessary financial details about your business, as applicable, including financing, insurance, licenses, and number of employees.
Provide the necessary accounting details, including record keeping, accountant, product pricing, and marketing strategy.
If you're interested in learning more about customer relations, click the Yes option button for the last question. When you're finished answering interview questions, simply move on to another task in Business Planner— there is no "Done" button to click. (When you move to the next screen, your answers will be saved and Business Planner will use them to prepare its recommended reading database.)
Picking Commands and Activities
To execute commands in Business Planner, you click commands on the six Business Planner menus (Home, File, Edit, Go, Favorites, Help), or click a button on the toolbar. Although Home is the first menu name on the menu bar, it's actually not a menu but a button that takes you to the Business Planner opening screen or home page, as shown in Figure 34-2. You can click the Home button at any time to display the oversized buttons that show your options graphically.
The home page lists the activities you can perform with the Business Planner application by functional category. You can search for business articles and resources in five specific areas: Planning, Operations, Legal, Finance, and Marketing. When you click one of these buttons, Business Planner displays a recommended reading list of articles that match your areas of interest (as identified by the Personal Interview Wizard).
If you select a research area, you can jump back to the previous page by clicking the Back button on the toolbar. In this regard, the Business Planner toolbar works just like Microsoft Internet Explorer— you can browse backwards or forwards through the Business Planner pages you have visited.
You can also start the Business Plan and Marketing Wizards from the Business Planner home page. We'll discuss these two planning tools later in the chapter.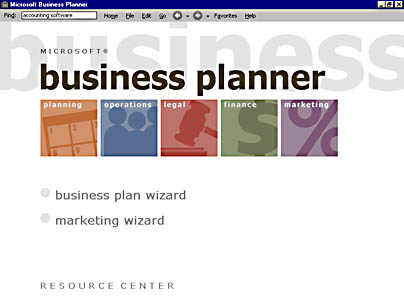 Figure 34-2. The Business Planner home page shows you graphically what the program can do.
Managing Business Resources
The five functional business categories (Planning, Operations, Legal, Finance, and Marketing) represent the main corpus of business articles prepared for each user by the Business Planner program. These recommended reading lists are customized for each business type, and each contains useful information that is listed thematically, as shown in Figure 34-3. Individual articles often display the source of the information presented (typically in the left-hand column), and you can click these sources for more detailed information from the Web if you're connected to the Internet.
To open a recommended reading list, click the category on the Business Planner home page, or click a topic on the Category submenu of the Go menu. In addition to providing access to the standard reading categories, the Go menu also contains other useful business links and contact lists, as shown in Table 34-2. Many of these links connect to information sources on the Web, but some are also standard lists of agencies and institutions that Business Planner has stored conveniently on your hard disk. Experiment with a few of these resources— you'll be amazed at how detailed some of the lists are!
Table 34-2. Useful Business Resources on the Business Planner Go Menu
| Command on Go Menu | Description |
| --- | --- |
| Microsoft Sidewalk Yellow Pages | An online search tool for business names and contact information. |
| Business Profiles Online | A Web page with detailed business information. |
| Web Links submenu | A submenu with Web connections to the five business categories (Planning, Operations, Legal, Finance, and Marketing). |
| Reference Directory | An alphabetic listing of useful references, contacts, and organizations for small businesses. |
| Listing by Business Type | An alphabetic listing of business types and useful contacts. |
| State and Province Resources | An alphabetic listing of regional business resources (chambers of commerce, education programs, loan programs, and so on). |
| Federal Resources | Useful resources in the Federal government (regulator agencies, various departments, service bureaus, and so on). |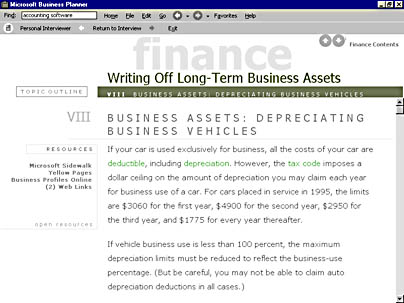 Figure 34-3. Recommended reading is listed by category, and often contains an Internet source for more detailed information.
Creating a Business Plan
A solid business plan is the heart of a successful small business. Yes, there are practical applications for business plans— they're often required for business loans, partnership agreements, and other long-term planning activities. But creating a business plan also gives you a chance to roll up your sleeves and do some real research in your industry— a systematic process that's well suited to the information management capabilities of the Business Planner application. When you need to create or review your business plan, let the Business Plan Wizard step you through the process— you'll probably find some data that you didn't know was out there!
To use the Business Plan Wizard to create a business plan, follow these steps:
Click Business Plan Wizard on the Go menu.

Business Planner starts the wizard, as shown below.

The Business Plan Wizard steps you through seven sections, which are listed one after the other on the right side of the dialog box. Each section gives you the opportunity to answer several questions and read some business literature pertaining to creating business plans and the specific activities of your business. When you're finished with the questions, the wizard completes the report and prepares it for printing.

Click the first section, History And Position To Date, which introduces the purpose of a business plan and asks you to read several useful articles about the planning process.

After reading the articles, you're asked a series of interview questions.

Complete the first section and the six that follow.
Although the individual answers you give will be unique to your situation, the process will be similar for most businesses and planning documents. When you're finished, you'll have a business plan that you can print and distribute to those who need an inside scoop on your business goals.
Creating a Marketing Plan
A marketing plan is a detailed review of how you plan to sell your product or services and who you think will buy them. A typical marketing plan includes details about the product you're selling, what the target market for your product is, how this particular product fits into your overall corporate sales strategy and product line, and specific details about how you'll bring the product to market and sell it. For the small business owner, a detailed marketing plan is often an afterthought, sometimes because an extremely detailed plan isn't necessary, but other times because the necessary supporting documents and marketing expertise aren't readily available.
The Marketing Plan Wizard is designed to help small business owners create effective marketing plans for their sales and marketing staff and other interested employees and financial institutions. This wizard isn't as detailed as the Business Plan Wizard, but it still follows the same model: it asks simple questions about your business, presents useful reading materials, and helps you create an outline of marketing goals that you can use to build a really effective plan for your company.
To use the Marketing Plan Wizard to create a marketing plan, follow these steps:
Click Marketing Plan Wizard on the Go menu.

Business Planner starts the wizard, as shown here:

The Marketing Plan Wizard asks you to complete two sections, each containing several literature review articles and interview questions. When you complete these questions, the wizard will complete your plan and give you the option to print it.

Click the first section, Your Marketing Campaign, which provides several conceptual articles for your review and asks you to answer interview questions about your marketing goals. The wizard uses these answers to create a working outline for your campaign and an action plan.
Complete the second section, Marketing And Advertising Materials, and answer the interview questions.

This part of the wizard focuses almost exclusively on advertising methods and ideas, including flyers, direct mail campaigns, radio ads, Web sites, trade shows, and so forth. Using your answers, the Marketing Plan Wizard creates a working outline for the Advertising section of your marketing plan and an action plan that contains points to remember and additional reading resources.
The goal of Microsoft Business Planner is to provide small business owners with the resources that traditionally only larger corporations have had at their fingertips. By managing large amounts of small business data, Business Planner can help business owners make informed decisions faster than ever. In addition, the Business Plan and Marketing Plan Wizards leverage this information in creative ways to provide the essential business documents that every business requires.