Once your records are organized into a list, you can use several commands on the Data menu to rearrange and analyze the data. The Sort command allows you to arrange the records in a different order based on the values in one or more columns. You can sort records in ascending or descending order or in a custom order, such as by days of the week or months of the year.
To sort a list based on one column, follow these steps:
Click the column or field in the list that you want to use as the basis for sorting the list.
From the Data menu, choose Sort. Excel selects all the records in your list and displays the following dialog box:

ON THE WEB

---

The Pivot.xls example is on the Running Office 2000 Reader's Corner page.
The Sort By drop-down list box contains the heading for the column you selected. If you like, you can select a different column in the list box now for the sort.
Click one of the sort order option buttons to specify ascending order (A to Z, lowest to highest, earliest date to most recent) or descending order (Z to A, highest to lowest, most recent date to earliest).
Click OK to run the sort. If you sorted the first column in ascending order, your screen will look similar to this: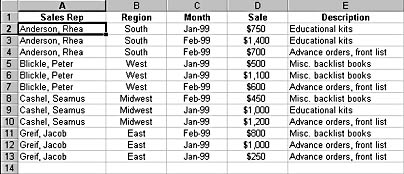 TIP

---

Click a Cell, Sort a List
To quickly sort a list based on a single column, click a column head or a cell in the column, and then click either the Sort Ascending or Sort Descending button on the Standard toolbar. Excel rearranges the list in the order that you selected.