If you create outlines in other programs, such as Word, you can either export them from their original application into PowerPoint or save the outlines and import the files directly into PowerPoint. PowerPoint can work with outlines in many different formats, such as the following:
Word documents ( .doc )

Rich Text Format ( .rtf )

Text files ( .txt )

Excel worksheets ( .xls )

HTML ( .htm )
For example, if you create an outline in Word, you use heading 1, heading 2, and heading 3 styles to format your document. When PowerPoint imports your outline, each heading 1 becomes a slide title, each heading 2 becomes first-level text, and each heading 3 becomes second-level text. Figure 5.8 shows a Word outline and its components .
Figure 5.8. Outline in Word and then export your outline to PowerPoint.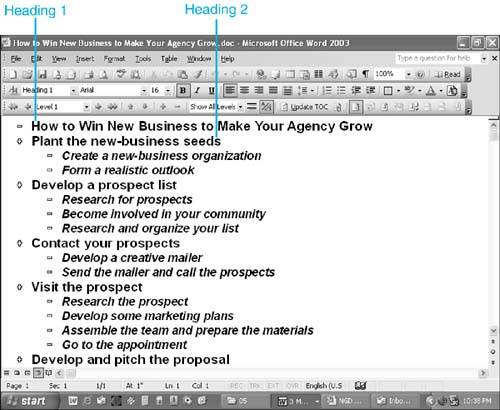 If the file you export doesn't contain these heading styles, PowerPoint uses paragraph indentations and tabs to determine the structure of the outline. PowerPoint does the best it can, but sometimes guesses an item's outline level wrong. Use the Outlining toolbar buttons to reorganize the outline.
To export an outline to PowerPoint from within Word, choose File, Send To, Microsoft PowerPoint. PowerPoint creates a presentation from this information. Apply a design template, and your presentation is complete. Figure 5.9 illustrates an example of an exported outline.
Figure 5.9. The outline now appears in a PowerPoint presentation.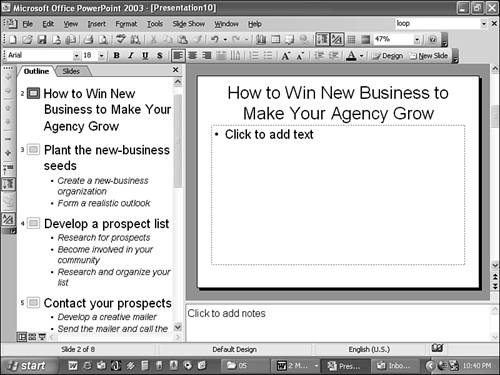 Although this is the easiest way to create a PowerPoint presentation from a Word outline, there are other ways to import different types of outlines into PowerPoint. You can
Import an outline from within PowerPoint " To do this, click the Open button to display the Open dialog box, select All Outlines from the Files of Type drop-down list, choose the outline you want to import, and click Open . With this method, PowerPoint creates a new presentation. Note that you might be prompted to install a converter if one isn't already installed.

Import an outline into an existing presentation " To do this, select the slide on the Outline tab after which you want to insert the new outline. Choose Insert, Slides from Outline to open the Insert Outline dialog box. Choose the outline you want to import and click Insert.

| | |
| --- | --- |
| | Does your imported outline look strange ? See the " Troubleshooting " section near the end of the chapter. |




Copy the outline text from the source application " Then just paste into PowerPoint and reformat to quickly create a basic presentation.