This book moves through lessons by progressively increasing the complexity of the media you're using. You start by learning about audio alone, then move to managing still images, printing still images, turning still images into moving (dynamic) images, and exploring the possibilities of video. With digital content and the four core iLife applications (iTunes, iPhoto, iWeb, and iMovie), you can create everything from scrapbook photos to T-shirts, books, DVDs, dynamic content for Web pages, and even a feature film ready for projection on the big screen.
Course Structure
Beyond all, the lessons are meant to be practicalnot esoteric projects to show off the software, but real-life projects from real-life people, with time constraints, well-worn equipment, and concerns about budget. The lessons cover three general areas: music and sound, still images, and movies.
Lesson 1: Mostly music. Use iTunes to make a custom CD, and play your music on both an iPod and through a regular stereo system.

Lessons 2 through 5: Mostly still images. Use images from your digital camera in iPhoto; print photos; make a slideshow; and create a professional-looking book of prints.

Lessons 6 through 12: Mostly movies. Combine still photos with music, special effects, and titles in iMovie; make a time-lapse video; learn to shoot video creatively and edit to maximum effect; add narration to your videos; mix sound with picture; create original music that you add to videos; and produce a simple podcast (with or without images).

Lessons 13 and 14: All of the above (sharing your projects). Upload slideshows and videos to the Internet using iWeb and an Apple .Mac account; email photographs; and burn DVDs of your projects using iDVD.
Role Playing
One of the most enjoyable aspects of this book is that you're going to assume the role of three different people, all using iLife, all using the same equipment. One is a parent, Christopher, overseeing his daughter's 12th birthday party. The second is a high school student, Charlie, putting together a report for school. And the third is a small-business owner, Jennifer, using her Mac for a variety of commercial media functions.
Your alter egos: Christopher, Charlie, and Jennifer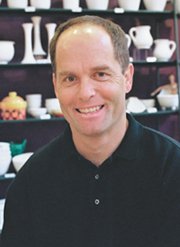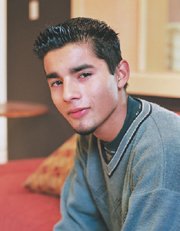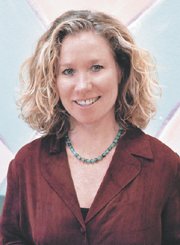 All three of them happen to be in the same place at the same time: a contemporary ceramics painting studio. You will see the one place and common event through iLife from three unique vantage points.
The setting: Petroglyph Ceramic Lounge, on a typical January day.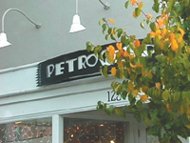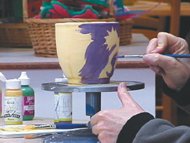 Therefore, you can progress through this book of lessons in a number of ways. You could start at the beginning and work systematically, Lesson 1 to Lesson 14. I recommend this.
I would not recommend the seemingly logical path where you skip from lesson to lesson, focusing on one productsay, iPhoto. By the end you'd think you'd have a pretty good set of experiences in iPhoto, but you'd miss the intricate and powerful ways the different products intertwine and build on one another.
I would also encourage you to pass on trying to follow one personalityfor instance, Jennifer, the business ownerthrough the iLife suite. Maybe you too own a business and are primarily interested in the ways your Mac and iLife can immediately impact your work. Again, this has its merits, but since all three people are using all the products, being too faithful about following the individual with your agenda will lead you to miss important points that may be the focus of one of the other characters.