In the earlier sections of this chapter, I talk only about extensions available through Mozilla Update. However, many volunteers choose to offer extensions through their own Web sites. Although these might work well, remember that we Firefox developers can verify the quality only of the extensions on Mozilla Update, so you should install extensions only from other sites you trust. In case you forget, Firefox makes it slightly more difficult to install extensions from sources other than Mozilla Update. I discuss both procedures here.
Installing from Mozilla Update
Installing an extension from Mozilla Update couldn't be easier. When you find an extension you like, click the Install Now link. Firefox asks you to confirm the decision, as shown in Figure 20-2. Click Install Now to continue.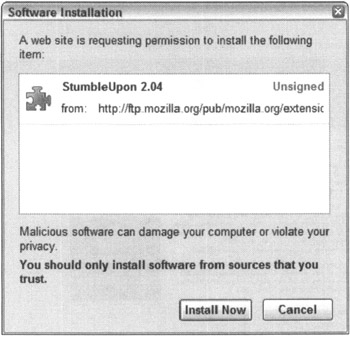 Figure 20-2: Firefox asks you to confirm all extension installations. Just click Install Now; Firefox does the rest.
| | | |
| --- | --- | --- |
| | REMEMBER | You might notice that the Install Now button is unavailable for about two seconds. This is to prevent you from inadvertently clicking it. |
Firefox opens the Extension Manager to display the installation progress. Installation is typically very fast, and when it finishes, you need to restart Firefox before the extension will take effect. After restarting, see "Using Extensions" later in this chapter for more information.
Installing from another site
Mozilla Update is not the only place to find great extensions. Many developers offer their extensions on their own Web sites, and you can find these by searching the Web for Firefox extensions. There are also some sites that aggregate high-quality extensions, just like Mozilla Update, including the following:
The Extension Room at http://extensionroom.mozdev.org

The Extensions Mirror at http://www.extensionsmirror.nl
Firefox blocks the installation of extensions from other Web sites because they might be broken or unsafe. When this happens, a toolbar appears at the top of the Web site, as shown in Figure 20-3.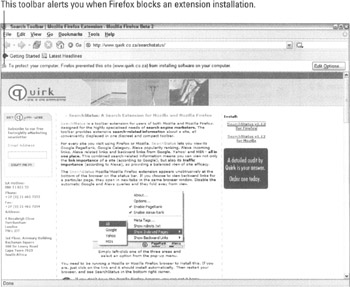 Figure 20-3: By default, Firefox prevents any site other than Mozilla Update from installing an extension, but displays this toolbar so you can override the policy.
To continue with installation, you need to verify that you trust the site:
Click the Edit Options button at the right end of the toolbar to open the Allowed Sites window.

This window contains a list of sites that are allowed to install extensions. By default, only Mozilla Update's two sites are included on this list.

Firefox prefills the address of your current site.

If you're sure the site is trustworthy, click Allow to add it to the list.

Click Close to close the Allowed Sites window.
Now that the site is in the trusted list, the installation process is the same as on Mozilla Update. Click the install link again and follow the directions in the earlier section, "Installing from Mozilla Update."