If you can't find the answer you need in Firefox's built-in help, the Web offers two types of resources you can try. The first is a collection of walkthroughs, Frequently Asked Questions (FAQs), and other documentation you can use to help yourself. The second is an online discussion forum where experienced Firefox users can usually walk you through the proper solution. I discuss both types of resources in the following sections.
Finding help documents online
Here are some of my favorite online resources:
The MozillaZine Knowledge Base: Though not officially affiliated with the Mozilla Foundation, MozillaZine (http://www.mozillazine.org) is an excellent community news and support site. One of its best features is a so-called knowledge base, a community-edited and -maintained resource. The knowledge base contains a list of the most common trouble spots in Firefox (with solutions, of course!), a comprehensive Frequently Asked Questions (FAQs) page, and a bevy of tips and tricks. The knowledge base is available at http://kb.mozillazine.org/Mozilla_Firefox.

An Introduction to Mozilla Firefox: A Web site called Open Source Articles offers a complete walkthrough of Firefox in a dozen different languages, complete with full-color screenshots. The walkthrough is available at http://opensourcearticles.com/introduction_to_firefox.

The Official Firefox Support Site: The Mozilla Foundation maintains an official Firefox support page that contains useful links to external help sites (including the other two sites in this list), as well as some original content of its own. The official support page is available at http://www.mozilla.org/support/firefox.
Using the support forums
If you have a question that you can't solve yourself by examining Firefox's built-in help or the online resources I list in the preceding section, you can turn to the vibrant and growing Firefox user community for help. Before doing so, see the sidebar in this chapter, "A word on netiquette."
A word on netiquette
The Firefox user community is comprised of Firefox's most advanced users and serves as an invaluable help resource. These users are not paid for their efforts, and it's important to show them the same respect they are showing you in trying to answer your question. Aside from normal conventions of etiquette, you should abide by some additional netiquette rules when seeking help in the community.
Try not to ask a question that is already answered in Firefox's built-in help, in the online help sites, or most importantly, in the forums themselves. Forum helpers get many of the same questions again and again, and understandably get frustrated at having to answer repeatedly. Use the forum search feature to see whether your question has already been addressed. Many years and hundreds of thousands of forum posts are archived, so there's a good chance it's been answered already. Still, don't kill yourself trying to find it. If a search doesn't uncover it within ten minutes or so, don't feel bad about asking the forum users.

If you do decide to create a new forum post with your question, make sure you create it in the right forum, which is the Mozilla Firefox Support forum under the User Support heading on MozillaZine. If you put your question in the wrong forum, users of that forum are going to be upset by the intrusion and will be less likely to help you or redirect you to the right place.

Don't post your question multiple times. Because forum helpers are volunteering their free time, it might take a few days to get a response, though it usually doesn't. If you don't get a response, that probably just means the forum helpers don't know the answer; asking again isn't likely to help.

Don't use all capital letters when posting your question. Doing so is the online equivalent of shouting, even if that was not your intent.

Consider registering for a MozillaZine account, which takes just a minute or two, if you intend to return to the forums in the future. Although you can post to the support forums without a username, forum helpers are more likely to help when they can match a persona to a question. If you frequent the forums and follow these simple rules of netiquette, you'll quickly earn a positive reputation among forum helpers, and they'll be more willing to help you.

A Web site called MozillaZine serves as the online home of Firefox's user community. MozillaZine is not officially affiliated with the Mozilla Foundation and offers the latest Firefox news, a comprehensive knowledge base (as I mention in the preceding section), and a set of discussion forums where anyone can ask a Firefox question (like the one shown in Figure 13-3). If you've already checked the knowledge base and the other online resources I list in the preceding section, your best bet is to ask your question in the MozillaZine Mozilla Firefox Support forum.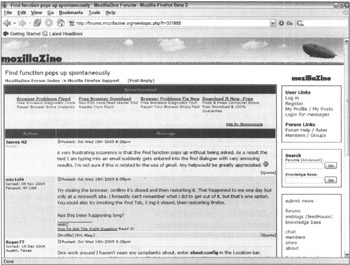 Figure 13-3: The support forum at MozillaZine is a great place to get your question answered by knowledgeable Firefox users.
To get to the forum, go to http://forums.mozillazine.org and click Mozilla Firefox Support, the very first forum in the list. There, you can create a new discussion thread by clicking the Create New Topic link at the top of the screen. You don't need to create an account to post, although doing so might be a good idea, as I discuss in the sidebar, "A word on netiquette". I also discuss in that sidebar why you should search the forums for your question before posting.
E-mailing Blake
If you still can't find the answer you're looking for, please don't hesitate to e-mail me at blake@firefox.com. It takes me a little (okay, a lot of) time, but I do respond to every e-mail.