Alerts is the term that Project Server uses for sending email messages to team members and managers to let them know that tasks or status reports are coming due or are past due. You and your project resources can set how many and when alerts can be sent. Although this sounds like a great idea, because the alerts come from the "system" and not actually from a person and sometimes can be so numerous, team members may end up ignoring them. Some organizations actually have chosen to turn off the email alerts so that they don't clog the email system. However, if used wisely and sparingly, they could be useful. These are especially useful if you do not access PWA daily. Email reminders about existing and recurring events are generated by a daily scan of the Project Server and are sent in one email reminder. They are then sent out at a specified time (often overnight).
You may also initiate recurring email messages when project managers send a new assignment or make changes to an existing one. These notifications occur almost instantaneously, unless you choose to turn off the notification. These emails are sent when you publish the project schedule through the Publish function.
The two kinds of alerts are
Alert Me About My Tasks and Status Reports

Alert Me About My Resources on Tasks and Status Reports
Click on Alert Me About My Tasks and Status Reports to set email notifications for yourself. The defaults from the system are that you will receive notifications when a new task is assigned, an existing task is modified, or you are requested to submit a status report. This can be especially handy to set reminders for yourself just before you are supposed to start a task. Figure 14.7 shows how you can click on and off your email reminders and set them according to your preferences.
Figure 14.7. Select which reminders you want and when.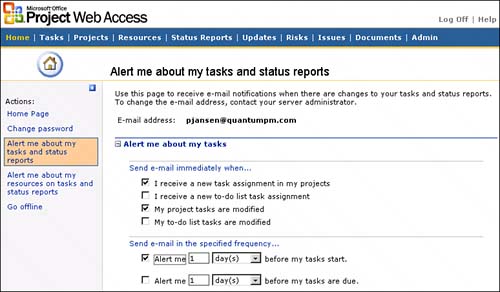 Click on Alert Me About My Resources on Tasks and Status Reports to set email notifications to remind your team members of task updates or about items your team members update. The system defaults are that you will receive reminders when your team members add or update a task, delegate a task, or submit a status report. You can select to send the email to yourself only, to your team members only, or to you and your team members. This function displays only for project managers. If you set a reminder for your team members, they cannot turn off the email alert. Figure 14.8 shows what kind of reminders you can select for your team.
Figure 14.8. Select which reminders you want for your resources and when you want them sent.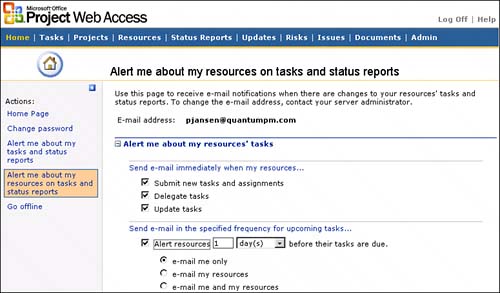 NOTE
These alerts are not the same as the Alert Me function set by team members using issues, risks, and documents. Those alerts are set by the team member only and are more specific about what changes the user wants to be notified about and when the user is notified.
The Alert Me function appears on several screens throughout PWA. It appears on the Tasks page, Status Report page, and the Updates page.