Director's Score ( Figure 3.1 ) works like the script of a Hollywood movie. It tells your cast members what they should do, and when and where they should do it.
Figure 3.1. The Score provides a frame-by-frame record of all the components that form your Director movie.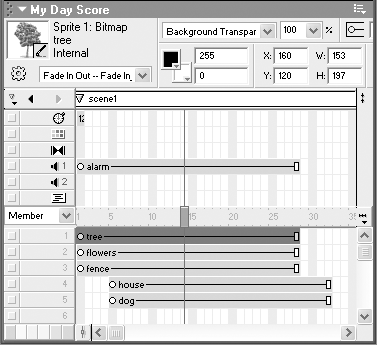 You assemble a Director movie by placing cast members (such as graphics and sounds) and events (such as scene transitions and tempo changes) in the Score's frames , which represent brief segments of time in a movie.
Cast members placed in the Score or on the Stage are represented by images called sprites . In this chapter, you'll begin to work with sprites in the Score. You'll learn to arrange them in time and space, edit their properties, and use them to control activities on the Stage. You'll also learn how to view and customize the Score itself.