Outlook's Folders
Outlook stores email and other kinds of data in a series of folders. These folders work much the same way as they do in Windows Explorer; that is, you can move things into the folders, create new folders, rename folders, and delete folders. You can create folders that file Outlook email and other data into compartments where you can easily locate your data later.
Figure 15.3 shows the Mail screen from Outlook (available by clicking the Mail button in the lower-left corner and then clicking your Inbox folder if Outlook does not automatically select the Inbox). You'll see a list of all the folders you've created for Outlook at the left edge of the screen.
Figure 15.3. The Inbox folder displays your email messages.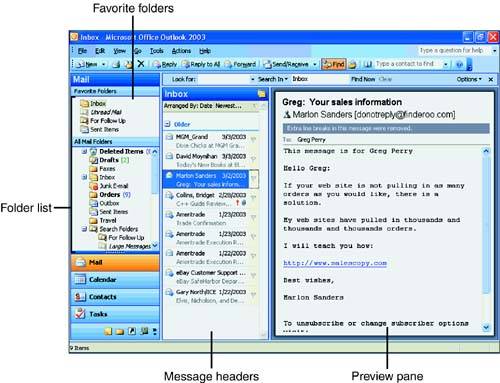 The various Outlook screen formats differ quite a bit from that of other Office products. You won't see the typical Formatting toolbar, for example. The Inbox folder (see Figure 15.3) is one of the most common folders you will display. Using Figure 15.3 as a reference, read through these descriptions to familiarize yourself with the Inbox screen elements:
Inbox folder contents " Lists the email that resides in your Inbox folder. When you want to read a specific message, double-click the message and Outlook opens a message window so that you can read the message.

Preview pane " Shows the selected email message's contents. You can display, hide, and select the location for the Preview pane from the View, Preview Pane menu option. The Preview pane shows as much of the selected message as will fit; drag the separating window edge between the header list and the Preview pane to change the size of the Preview pane so that you can read more or less of the selected message.
| | |
| --- | --- |
| | The Favorite Folders area holds a special group of folders that you can add or remove to and from the Favorites list. You'll place the folders you access most in your Favorites list, and then when you need a different folder not shown under Favorites, you can search for the folder you want in the folder area below Favorites. |