The opening screen of Outlook can vary considerably depending on how your version is currently set up. The default screen that shows right after installing Outlook is the Outlook Today screen, shown in Figure 15.1. This Outlook Today view is defined by a folder inside Outlook called the Outlook Today folder, and it shows an overview of messages, to-do tasks , and appointments for the current time period. If today's a holiday, Outlook will also tell you that; most major as well as minor holidays appear, and you can adjust, add, and remove other days you want to be reminded of such as birthdays and anniversaries.
Figure 15.1. Outlook's Outlook Today opening screen summarizes your current activities and messages.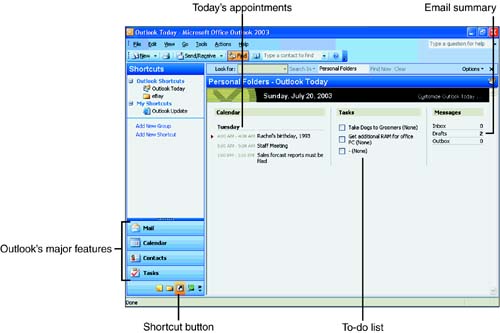 | | |
| --- | --- |
| | If you installed Outlook 2003 over a previous version of Outlook, you will notice that Outlook 2003's screen has changed dramatically. As a matter of fact, Outlook 2003 is the most dramatic change in Office 2003 over Office XP. In addition, Outlook has changed very little since it first appeared in Office 95 until Outlook 2003. |
If your Outlook does not open to the Outlook Today screen, but you want it to, select Tools, Options; click the Other tab; and click the Advanced Options button. The drop-down box at the top of the Advanced Options window contains a list of items from which you can select to determine what first appears when you start Outlook. So if you want the Outlook Today screen to appear when you first start Outlook, select Outlook Today from the list. If you want to see your email's Inbox (the place where all your mail comes into), select Inbox. You can select from several other opening screens as well. After closing the windows , the next time you start Outlook, the feature you selected will appear.
Figure 15.2 shows the Outlook Calendar folders that you see when you click the Calendar option in the lower-left corner of the screen. You can adjust virtually all screens in Outlook to display data in a format that best suits your preference.
Figure 15.2. The Calendar folder's view shows appointments you've set up.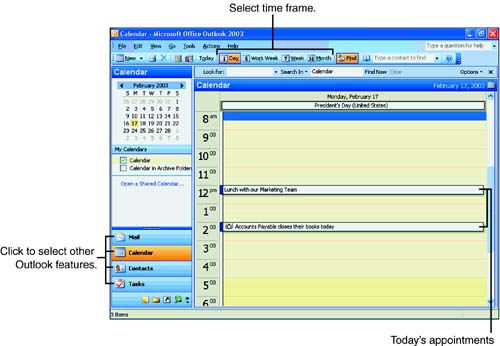 The different Outlook features, most which are available from the buttons in the lower-left corner of the screen, produce screens that are quite different from each other, more so than the different views of the other Office programs. Here are Outlook screens you'll see:
Outlook Today " The at-a-glance overview of your current activities that you saw in Figure 15.1. You can view your Outlook Today screen by clicking the shortcut button (shown in Figure 15.1) and then clicking the Outlook Today shortcut that appears in the list at the left of the screen.

Inbox " A collection of your email messages, organized in topic folders that you set up or contained in the default Inbox folder.

Calendar " The scheduling screen where you can track appointments, as Figure 15.2 shows.

Contacts " A card catalog of contact name and address information.

Tasks " Items you have to prioritize and complete.

Journal " A log of activities you perform on the computer.

Notes " Notes on any topic that you want to organize.