If you have more than one Word document open , you may want to display them next to one another to compare their content, or to drag and drop text between them.
To arrange your open Word documents so that all of them are visible, choose Window, Arrange All. Word tiles the documents so that they cover your entire desktop (see Figure 5.10). If you want to create more room to see your text in tiled Word windows , you can hide the rulers and place the Standard and Formatting toolbars on one row, as shown in Figure 5.10. (To hide the rulers, choose View, Ruler. To put the Standard and Formatting toolbars on the same row, choose Tools, Customize, mark the Standard and Formatting Toolbars Share One Row check box, and click the Close button.)
Figure 5.10. The two open Word windows are visible at the same time.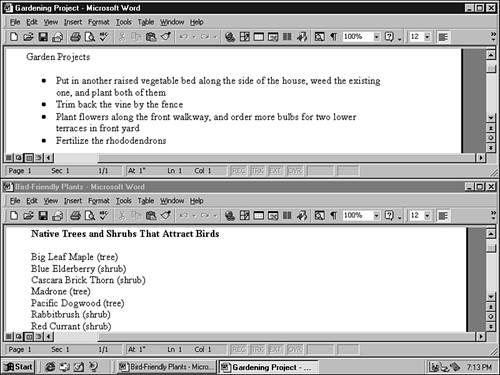 To return to viewing only one Word window, click the Maximize button in the upper-right corner of the window that you want to use.