What's in Microsoft Office and Quicken?
The following is a quick overview of the major Microsoft Office programs:
Word is a word processor with which you can create notes, memos, letters , school papers, business documents, books, newsletters, and even Internet Web pages.

Outlook is a personal information manager ( PIM ) that organizes your contact addresses, phone numbers , and other information in an address-book format. Use Outlook to track your appointments, schedule meetings, generate to-do lists, keep notes, manage all your Internet email, and keep a journal of your activities.

PowerPoint is a presentation program with which you can create presentations for seminars , schools , churches , Web pages, and business meetings. Not only can PowerPoint create the presentation overheads, it can also create the speaker's presentation notes.

FrontPage enables you to create your own Web pages without having to learn tricky coding languages. With FrontPage, you'll combine documents from the other Office products into a series of Web pages you can be proud of.

Excel is an electronic worksheet program with which you can create charts , graphs, and numerical worksheets for financial and other numeric data. After you enter your financial data, you can analyze it for forecasts, generate numerous what-if scenarios, and publish worksheets on the Web.
| | |
| --- | --- |
| | The products taught here, especially Word, Excel, PowerPoint, and FrontPage, share many common features and menu options. The advantage is that once you learn one program, you already will be familiar with many features of the others. |
In addition to sharing common interface elements, you can almost always transfer data from one program to another, often by dragging data and filenames with your mouse. You can move an Excel worksheet to FrontPage so your table appears on a Web site you maintain that displays your portfolio for an investment group you attend . Take that same table and embed it in a PowerPoint presentation for training sessions at your financial group's meetings.
| | |
| --- | --- |
| | One of the most helpful features of Office is its ability to adjust menus and toolbars to work the way you do. For example, Word does not display all menu commands on the File menu when you display the File menu. Instead, Word displays only those commands you use most often. The less often you use a menu option, the more likely Word will remove that option from the initial menu that first appears. All the commands are there, however, so when you click the arrows at the bottom of a menu, the menu expands to show all its commands. The Office products, thus, attempt to keep your screen as free from clutter as possible. As you use menus and toolbars , Office analyzes the menu options and buttons you use most; those options and buttons you use infrequently will begin to go away so that only your common choices remain . You can always access these hidden menu options and toolbar buttons , but Office puts them out of the way until you need them. |
| | |
| --- | --- |
| | This book always displays all menu options although your Office installation may show the shortened personalized menus that reflect the options you use most. You can show the full set of menu commands by selecting Tools, Customize, Options and unchecking the option labeled Menus Show Recently Used Commands First. |
Introducing Word
When you need to write any text-based document, look no further than Word. Word is a word processor that supports many features, including the following:
Integrated grammar, spelling, and hyphenation tools

Wizards and templates that create and format documents for you

Automatic corrections for common mistakes as you type using special automatic-correcting tools that watch the way you work and adapt to your needs

Advanced formatting capabilities

Numbering, bulleting, and shading tools

Multiple document views so that you can see a rough draft of your document or the look of a final printed page as you write

Drawing, border, and shading tools that enable you to emphasize headers, draw lines and shapes around your text, and work with imported art files

Simple Web-page development for Internet users so that they can turn their documents into Web pages
Figure 1.1 shows a Word editing session. The user is editing a business letter to send to a client.
Figure 1.1. Word helps you create, edit, and format letters.
Introducing Outlook
Outlook is a simple-to-use tool that manages your business and personal meetings, email, to-do lists, contacts, and appointments. Outlook provides many features, including the following:
The capability to track your contact information, including multiple phone numbers and computerized email addresses

The capability to track your computer activities in a journal

Management of your email, phone calls, and to-do lists

The capability to schedule appointments

The capability to plan people and resources you need for meetings

The capability to sound an alarm before an important event
Figure 1.2 shows an Outlook calendar screen. The user is getting ready to schedule a meeting on a particular day. As with all the Office programs, you can modify screen elements in Outlook so that they appear in the format most helpful to your needs.
Figure 1.2. Outlook tracks appointments and events.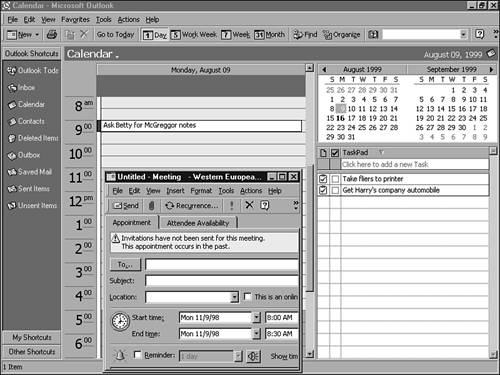 Introducing PowerPoint
Before PowerPoint's original version, users had no way to generate presentations without making a tedious effort to design each color slide using some kind of graphics drawing program. Although presentation products similar to PowerPoint exist, PowerPoint is recognized as a leader. PowerPoint supports many features, including the following:
The capability to turn your Word document outlines into presentation notes

Automatic proofing tools such as spelling and hyphenation

Sample slide and slide collection templates that provide you with a fill-in-the-blank presentation

A slide projector that displays your presentation on your screen

Complete color and font control of your presentation slides

A collection of clip art files, icons, sounds, and animations that you can embed to make presentations come alive

Numerous transitions and fades between presentation slides to keep your audience's attention

The capability to save presentations as Web pages that you can then present on the Internet
Figure 1.3 shows a PowerPoint editing session. The user is getting ready for a presentation and has only a few minutes to prepare 10 color slides for the meeting. With PowerPoint, a few minutes are more than enough time!
Figure 1.3. PowerPoint helps you create, edit, and format presentations.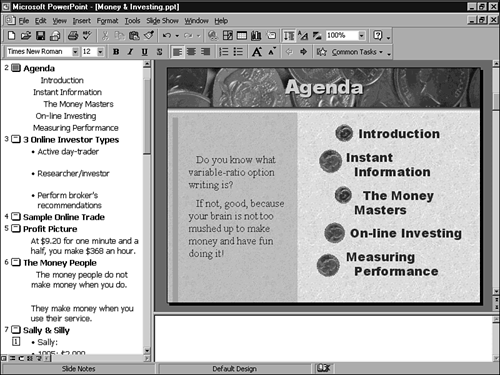 Introducing FrontPage
FrontPage is a Web page creation tool that helps you design Web pages by clicking and dragging objects and text and other Web page elements to their final location. Before tools such as FrontPage, you would have to master advanced programming commands to create Web pages. With the visual tools available in FrontPage, you can create Web pages as easily as you create documents in Word. In addition, you can combine documents from the other Office products into your Web pages and manage your complete site's Web pages. FrontPage includes features such as the following:
The ability to send your Web pages directly to the Internet or a company intranet

Menus and toolbars that closely match those of the other Office products so that you can more quickly begin creating Web pages

Numerous samples of Web pages from which you can add your own elements

A collection of predesigned themes from which you can select that gives your Web pages design consistency
Figure 1.4 shows a Web page being edited inside FrontPage. Without learning tedious commands, you, too, can create such effective pages.
Figure 1.4. Create your own effective Web pages with FrontPage.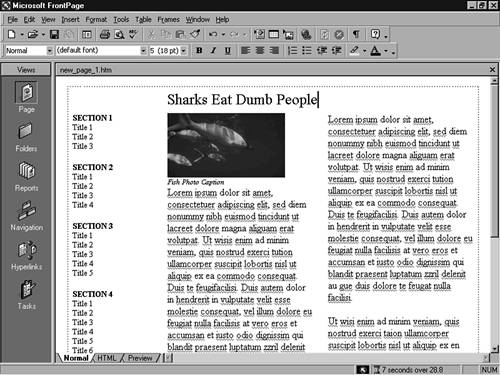 Introducing Excel
Although Excel can be used for non-numeric worksheets, the primary goal for Excel is to help you organize and manage financial information such as income statements, balance sheets, and forecasts. Excel is an electronic worksheet program that displays financial information in a series of rows and columns whose intersections form cells . Excel supports many features, including the following:
Automatic cell formatting

Worksheet proofing tools, such as spell checking

Automatic row and column completion of value ranges with AutoFill

Automatic worksheet formatting to turn your worksheets into professionally produced reports

Built-in functions, such as financial formulas, that automate common tasks

Powerful maps, charts, and graphs that can analyze your numbers and turn them into simple trends

Automatic worksheet computations that enable you to generate multiple what-if scenarios and decide between different courses of action
Figure 1.5 shows an Excel editing session. The user is getting ready to enter invoice information for a sale. As you can see, Excel can start with a predesigned form. If you have worked with other worksheet programs, you might be surprised at how fancy Excel can get. The wizards make creating advanced worksheets easy.
Figure 1.5. Excel helps you create, edit, and format numeric worksheets.