3 About the Camera's Perspective
Before You Begin

1 Walk Through a Digital Video Production

2 Plan Your Video
See Also

4 About Your Video's Audience
Your camera sees the world differently from the way you see the world. The camera's peripheral vision is more limited. Begin looking at your subject matter from the camera's viewpoint. By doing this, your videos will more accurately reflect what you want them to portray. By limiting the peripheral vision, your video might need more panning to capture a scene's contextual meaning. For example, a flag waving amid tombstones in a cemetery portrays a much different effect from a flag waving atop a baseball stadium. Unless you pan or zoom out from the flag, your camera will catch only the flag, and its context will be lost.
The camera's eye sees less peripherally than you do.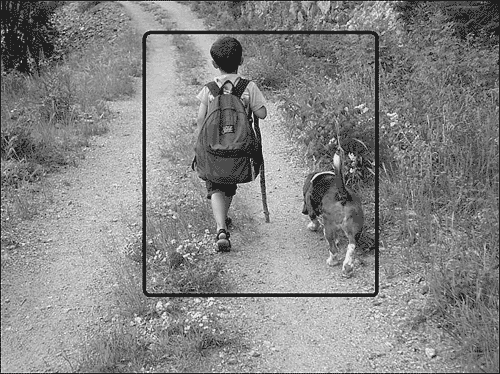 KEY TERM
Peripheral vision " The area of vision outside the center of focus. You can look straight ahead and see some things off to either side. Those things are in your peripheral vision.

Panning " Moving the camera left and right to film subject matter that is not currently in the camera's eye.
You'll quickly learn, especially when you're trying to tell a story, as you'd do in a movie or when creating an instructional or sales video, that small improvements in the way you film will greatly enhance the look of your production. Although you can read about shooting effectively, it will be the school of hard knocks that really drills proper video techniques into your head.
For example, jump cuts often occur in amateur films . The producer might not even notice that a jump cut occurred. Even the audience might not notice it "consciously. Unconsciously, a sloppy jump cut can break the flow of the movie. You'll want to stay alert to ensure that a person's position in one shot matches the same position in the next shot if you want to eliminate jump cuts in your movies. If you're shooting live action taking place in front of you, you won't be able to eliminate jump cuts, but if you're in control of the subject matter, teach your subjects to keep their hands and bodies in the same position from shot to shot if you must take multiple shots in the same scene.
KEY TERM
| | |
| --- | --- |
| | Jump cuts " A quick cut from one shot back to the same shot again when the actor's position has changed, breaking the scene's continuity. |
Jump cuts in audio can occur as well as in video, so make sure the sound levels and surrounding noise don't differ too much from shot to shot within the same scene's time period.
TIP
| | |
| --- | --- |
| | If you cut from and back to a moving subject, jump cuts pose far less of a problem because the audience realizes the subject's position has changed between cuts. |
The subjects' positions changed too much between shots because of the jump cut.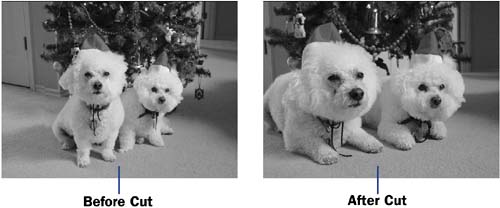 Panning is used conservatively in most movies and television shows. The pros don't move their camera often, and neither should you ( see 5 About Reducing Motion and Relying on Your Subjects ). In addition, one of the common mistakes video camera owners make is zooming too much ( see 11 Zoom Effectively ). In some home movie videos, the camera is constantly zooming in and out. The end result is the audience must focus on where the zoom is taking them next versus the scene itself. The ride on which lots of excessive zooming takes an audience is not a good one.
TIP
| | |
| --- | --- |
| | If you want to record a scene with two people speaking and you only have one camera with which to shoot the scene, align your subjects diagonally so the camera can easily see both speakers . You'll reduce panning. |