#88. Exploring Scripts in InDesign
InDesign is a page layout application laden with powerful features and tools. But if there happens to be a task you wish InDesign could help with, look no further than scripts. Scripts in InDesign are plain text files that can be written in AppleScript for Mac, VBScript for Windows, or JavaScript for cross-platform support to extend InDesign's base functionality to accomplish particular tasks faster or more efficiently.
Scripting in Other CS2 Applications
The ability to extend an application through scripting is also available in all CS2 applications (including Bridge). But since applications such as Photoshop and Illustrator offer a user interface for building automated tasks through Actions, looking to scripts to automate these applications is usually reserved for more demanding workflow needs. But keep in mind that scripting is available in the entire suite of applications if you should ever need it.
Fortunately, you don't have to learn to code to reap the benefits of InDesign scripts. You can install scripts into InDesign that others have been so kind to develop and start running them with a simple double-click. Many sample scripts are available to you on the CS2 install disc. If you own Adobe Creative Suite 2 Premium, look on the Resources and extras disc (not Disk 2) and follow this path: Technical Information/InDesign CS2/Scripting/Adobe Sample Scripts/JavaScript. To install these sample scripts into InDesign, select all the scripts and copy them into your InDesign's Scripts folder (Adobe InDesign/Presets/Scripts). You should also copy the Read Me PDF found in the Adobe Sample Scripts folder to learn what each script does. Then quit InDesign if you happen to have it running. Launch InDesign and choose Window > Automation > Scripts to open the Scripts palette. The sample scripts you installed should now be available to you from this palette (Figure 88). To run a script, simply double-click it. Many of the scripts require you to have an object selected first, but they display a message window informing you of such.
Figure 88. Once you've loaded the sample scripts into InDesign, you'll have unleashed a whole new set of features and functionality that was lurking underneath the power of scripting.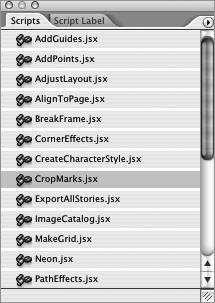 Be sure to try each script to become familiar with its capabilities. For even more scripts, go to Adobe's Resource Center Studio Exchange at http://share.studio.adobe.com. Here you'll not only find scripts for InDesign and other CS2 applications, but other helpful tools such as templates and plug-ins. When I last checked, there were close to 200 scripts available for InDesign.