After the HTTP server functionality and managed clients have been configured, HTTPS clients can connect. To do so, open a Web browser on a supported operating system and browser, such as Microsoft Internet Explorer, and enter the PIX IP address on the HTTP server-enabled interface. Follow these steps to establish your first connection to the PDM:
Enter the PIX IP address in a Web browser.

Accept the certificate security alert.

Enter the password.

Accept the security warning.

Enter the PDM interface.
The following is the syntax for your 192.168.1.1 PIX inside interface:
https://192.168.1.1
When the browser connects to the PIX, HTTPS provides an SSL connection between the client and the PIX. The certificate dialog box is then displayed, warning you that this is an untrusted certificate. Figure 13.2 displays the first dialog box you will see.
Figure 13.2. The security alert box.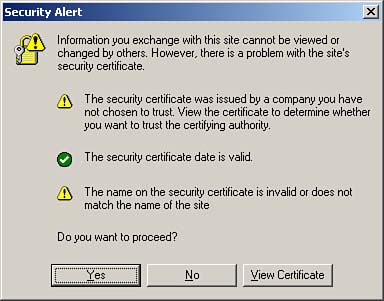 Click Yes to proceed. Next, you are presented with the authentication dialog box. If you have configured AAA services, a username is required; otherwise , leave the Username field blank and enter the current enable password. Figure 13.3 shows the login dialog box.
Figure 13.3. The Login dialog box.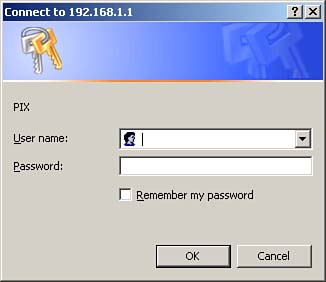 After the authentication succeeds, a security warning dialog box might be displayed requesting consent to install a publisher's certificate. Click Yes. Figure 13.4 shows this dialog box.
Figure 13.4. The security warning dialog box.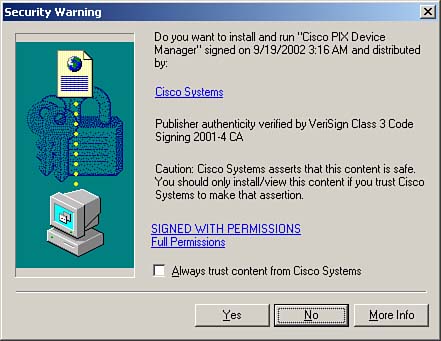 After it's installed, the PDM interface takes a few seconds to load. Figure 13.5 displays the window that appears during the loading stage.
Figure 13.5. Loading the PDM.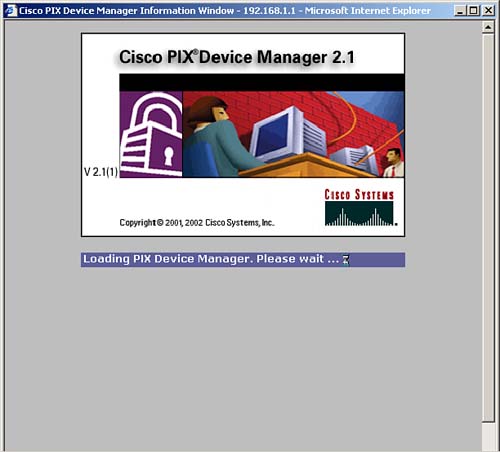 After the PDM has loaded, you will see one of three possible screens.
The Startup Wizard is displayed if you don't have a configuration. The Startup Wizard automatically launches and walks you through several easy steps to configure the basic PIX system. Figure 13.6 displays this screen.
Figure 13.6. The Startup Wizard.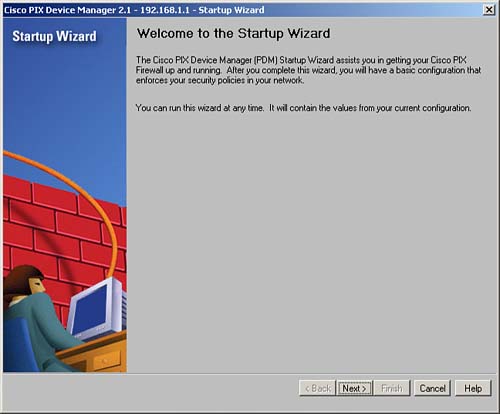 The Access Rules tab is displayed if you already have a configuration and all the commands in the configuration are supported. Figure 13.7 displays this screen.
Figure 13.7. The Access Rules tab.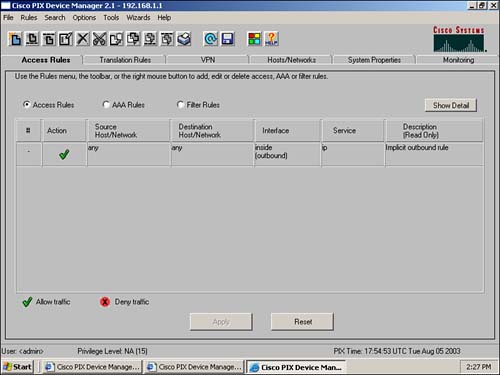 The Unsupported Commands dialog box is displayed if any unsupported commands are configured on the firewall. Figure 13.1, shown earlier in this chapter, displays this warning. After you click Yes, you are only able to monitor items on the firewall in the Monitoring tab. Figure 13.8 displays the only tab you will be able to access.
Figure 13.8. The Monitoring tab.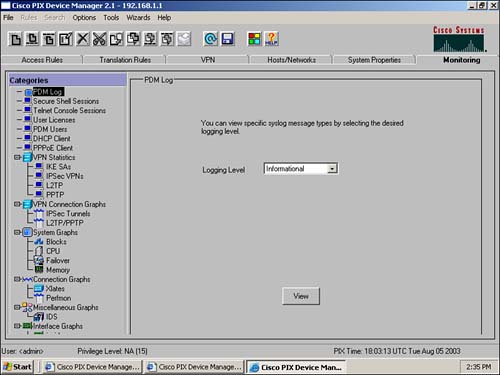 | | |
| --- | --- |
| | When your PIX has not been configured, the PDM Startup Wizard automatically is displayed. |