If you like music, iTunes (shown in Figure 10.1) can serve as your CD player, MP3 ripper, song organizer, jukebox, and CD burner . Amazingly, iTunes is simple enough to use that even if you've never burned a CD, ripped an MP3, or listened to Internet radio, you can be doing all three within five minutes "tops.
Figure 10.1. Here's a glimpse of iTunes.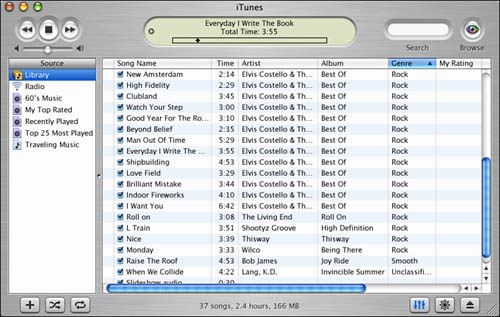 | | |
| --- | --- |
| | MP3 is a compression system that reduces the size of a music file by a factor of 10 to 15, or more. How's this magic accomplished? By removing data that the human ear either cannot, or doesn't hear as well. Audio quality can be almost indistinguishable from a CD, or, if you opt for more compression, audibly different. |
| | |
| --- | --- |
| | As you will learn in the next chapter, ripping and burning are creative, not destructive, acts when it comes to digital music. Ripping is basically encoding a song for storage on your computer, and burning is writing information, including music, to a CD! |
iTunes is also perfectly suited for handling streaming MP3s. If you've never listened to Internet radio before, you'll appreciate how quickly and easily iTunes enables you to find the type of music you want to hear and start listening.
iTunes also interacts with the Internet to look up information about your CDs, such as the artist and song title.
You'll learn how to use iTunes in the next chapter.