Now that you've mastered the basics of Web browser use, let's look at .Mac "a Web-based set of applications and services designed by Apple for Mac users (although some services are also available to PC users). You can purchase a year-long membership at www.mac.com to receive the following:
| | |
| --- | --- |
| | .Mac replaces a now- defunct free service from Apple called iTools. |
Email " Accessible from anywhere you have a Web browser, mac.com email accounts include 15MB of storage space.

iDisk " 100MB of storage space, accessible from both Macs and PCs, for backing up or sharing your files across the Internet. You can connect to the iDisk from the Go menu of the Finder and choosing iDisk (Shift-Command-I).

HomePage " Apple's HomePage application can generate a basic Web page and transfer it to the Apple server. You can further edit the created pages or substitute pages of your own design.

Backup " Created by Apple, Backup helps transfer your files to iDisk or burn to CD or DVD using an internal CD-RW or SuperDrive. It also helps you schedule regular backups and, if the time comes, restore your files.

Full access to .Mac benefits requires a paid subscription, but you can sample some .Mac features for free. A 60-day free trial of .Mac includes an email address and 5MB of space, 20MB of iDisk space, Backup software to help you store files in your iDisk, and use of HomePage to create and share your Web page.

Without either a full or trial membership to .Mac, you can send iCards and access the public folders of .Mac members .




iCards " Send iCards via email to your friends and family. Members of .Mac have the added ability to use photos of their own.

Another small application available through .Mac is the .Mac Slide Publisher, which enables you to upload a set of images to your iDisk for use as a screen saver by others running Mac OS X. Even though you can only have one slide show operational at a time, this is a fun way to share pictures with friends and family.

To set a .Mac slide show as your screen saver, go to the Screen Effects panel of System Preferences and choose .Mac in the Screen Effects list. Then click the Configure button to enter the .Mac membership name of the person whose slides you want to view "you're welcome to subscribe to my .Mac slide show by entering robynness in the text entry field. Click OK to set your selection. It takes a moment for the images to be downloaded from the Internet to your computer. You can test the slide show by clicking the Test button in the Screen Effects tab.




Anti-Virus " Download McAfee's Virex software to protect yourself from harmful computer viruses.
Additional software for download appears on the .Mac page from time to time, so the list above is not comprehensive. I recommend you check it out to see if purchasing a membership would be worth the cost.
Setting .Mac Preferences in Mac OS X
The applications that make up .Mac are easily and seamlessly integrated into Mac OS X. If you sign up for a .Mac account, you'll find that the easiest way to make sure that your .Mac account works with your operating system is to set up your account in System Preferences for Mac OS X.
Click the System Preferences icon in the Dock or choose System Preferences from the Apple menu. In the System Preferences panel, click the Internet button under the Internet & Network category. Click the .Mac tab at the top of the panel, as shown in Figure 4.13. Enter your information in the .Mac Member Name and Password fields. By entering the .Mac member information, you're giving Mac OS X access to the information so that you don't have to enter it in multiple applications that interact with .Mac.
Figure 4.13. The Internet Preferences panel opened from System Preferences.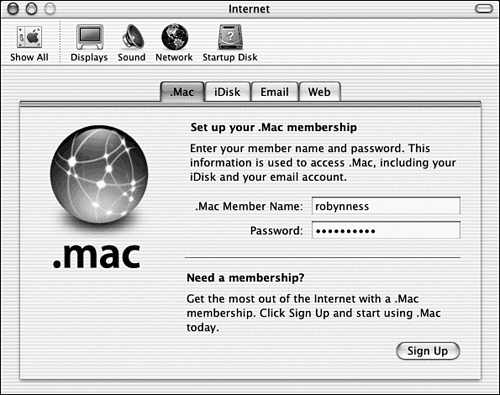 | | |
| --- | --- |
| | The iDisk tab of the Internet preference panel helps you monitor the amount of space your files use. Under the Public Folder Access section of this tab, you can set read/write permissions and even password protect your public folder. |