With the GNOME Volume Manager features in Fedora Core 3, getting images from a digital camera can be as easy in Linux as it is in any desktop operating system. With most digital cameras that can be connected to a USB port on your computer, simply plugging the camera into a USB port (with the camera set to send and receive) causes the GNOME Volume Manager to:
Immediately prompt you to ask if you want to download images from your camera.

If so, it will run the gThumb image viewer and browser program to look at, manipulate and download the contents of your digital camera.
The GNOME Volume Manager mounts the contents of your USB camera, treating the memory of your camera as it would any file storage device. When I tried it with an Olympus digital camera, my images were available from the /media/usbdisk/dcim/100olymp directory. Figure 8-9 shows an example of the gthumb-import window displaying the images from a digital camera.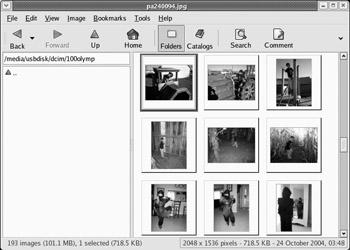 Figure 8-9: Download images from digital cameras with the gThumb image viewer.
With your camera connected and the gThumb window open, here are some things you can do with the images on your camera:
Download images — Click a single image or select Edit ® Select All to highlight all images from your digital camera. Then select File ® Import Photos. From the Import Photos window you can select the destination where you want the images to be downloaded. As an alternative, you can download selected images to a folder on the GNOME desktop.

View Slideshow — Select View ® Slide Show. A full-screen slideshow appears on your display, with the images changing every few seconds. The toolbar that appears at the top lets you display information about the photo name, date, and size (click Image Info), go forward and back through the images, and zoom in or out.

Manipulate images — Double-click an image to open it, and select the Image menu. That menu offers a set of tools for resizing, cropping or otherwise transforming the image. You can also adjust the color balance, hue/satuaration, and brightness contrast.

Assign categories — With an image selected, click the Categories button. The Categories pop-up window lets you assign the image to a category to help you organize your photos. Assign available categories (such as birthday, family, holidays, or games) or click New and add your own categories.
Once images are downloaded to your computer's hard disk, you can continue to work with them using gThumb or use any of a number of tools available for manipulating digital images (GIMP, KView, and Kuickshow, to name a few).
| | | |
| --- | --- | --- |
| | Note | If you have a camera that saves images to a floppy disk, just insert that disk into your disk drive and the contents of the disk should open automatically on your desktop. In addition, if your camera saves images to SD or CF cards, you can purchase a USB card reader and view these files from Linux. |
Check the gPhoto2 Web site (http://www.gphoto.org/proj/libgphoto2/support.php) for information on supported cameras as well as other topics related to gPhoto. Here is a list of currently supported digital cameras.
Using your camera as a storage device
As I noted with my example of an Olympus camera with a USB connector, the GNOME Volume Manager is capable of detecting that camera once it is connected, and mounting its contents as a storage device. With the contents of a digital camera mounted, you can use your camera as a USB mass storage device by:
Opening the mounted directory in a folder window and using any file manager features to work with the images.

Changing to the mounted directory from the shell and using commands to copy, move, rename, or delete digital images.
Of course, with your camera mounted as a file system, you are not limited to using it only for digital images. You can use it to store any kind of files you like, essentially using the camera as a storage device. The following list is a partial summary of digital cameras that can be used as a USB storage device:
Casio — Supported models: QV-2400UX, QV-2x00, QV-3x00, QV-4000 and QV-8000

Fuji — FinePix 1300, 1400Zoom, 2300Zoom, 2400Zoom, 2800Zoom, 4200Z, 4500, 4700 Zoom, 4900 Zoom, 6800 Zoom, A101, A201, and S1 Pro

HP — PhotoSmart 315, 318xi, 618, and C912

Konica — KD200Z, KD400Z, and Revio KD300Z

Kyocera — Finecam s3

Leica — Digilux 4.3

Minolta — Dimage 5, Dimage 7, and Dimage X

Nikon — CoolPix 2500, 885, 5000, 775, and 995

Olympus — Brio Zoom D-15, C-100, C-200Z, C-2040, C-220Z, C-2Z, C-3020Z, C-3040Z, C-4040Zoom, C-700, C-700UZ, C-860L, D-510, D-520Z, E-10, and E-20

Pentax — EI2000, Optio 330, and Optio 430

Sony — DSC-F505, DSC-F505V, DSC-F707, DSC-P1, DSC-P20, DSC-P5, DSC-P71, DSC-S30, DSC-S70, DSC-S75, DSC-S85, MVC-CD300, and MVC-FD92

Vivitar — Vivicam 3550

Yashica — Finecam s3