You might have noticed as you built new forms and reports in your Access 2007 databases that Access sets the new Allow Layout View property to Yes by default. This is a handy feature while you're building forms and reports because it allows you to align, position, and resize controls while you view live data. When you're ready to put your application in production, however, you need to reset this new property to No for all your forms and reports so that the users see your forms and reports as you intended. You could open every form and report in Design view, change the property, and save the form or report. But why do it the hard way? In the Access Options dialog box, you can select an option that disables the ability to open forms and reports in Layout view. Click the Microsoft Office Button, click Access Options, and then click the Current Database category. In the Application Options section, clear the Enable Layout View For This Database check box, as shown in Figure 24–9.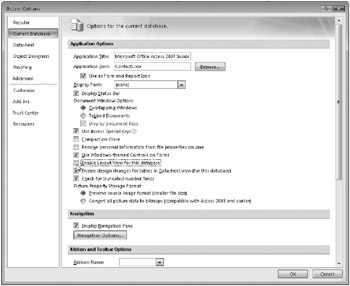 Figure 24–9: You can disable the ability to view objects in Layout view in the Access Options dialog box.
When you clear this option, Access does not show Layout View as an option in the Views group on the Ribbon or on any shortcut menus.