By default, Distiller will automatically create and save a log of the distilled job and place the distilled PDF in the same folder as the PostScript file. You will probably want to change these default processes, which are controlled through Distiller Preferences. Here s how:
Select Distiller Preferences (Figure 4.16): in Windows choose File > Preferences (Ctrl+K) or on a Mac choose Distiller > Preferences (

+K). You will notice that the Windows and Mac versions of this dialog have slightly different options. I recommend that you set the options in the Preferences panel as follows :
Select the Ask For PDF File Destination radio button. Setting this preference will allow you to redirect the destination of your finished PDF file to a folder other than the one that contains the original PostScript file.

Check Delete Log Files For Successful Jobs to remove the files that you will likely never pay attention to or need.

Check Notify When Watched Folders Are Unavailable. This will let you know when a watched folder is deactivated, moved, or otherwise unusable. (See the next section for more information on watched folders.)

In Windows, check Notify When Windows TEMP Folders Are Available (this option isn t available in Mac OS). Distiller will let you know if you are running out of room in the TEMP folder on your disk, which when full will prevent you from creating PDF documents through Distiller.

Check View PDF When Using Distiller (another Windows-only option) if you want to view the PDF file once it is created.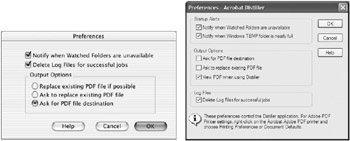 Figure 4.16:

Distiller Preferences: (left) Macintosh and (right) Windows