While you can perform preflighting manually, using preflighting tools allows you to be more consistent, work faster, and make fewer mistakes. There are typically two categories of preflight tools: those built into page layout applications and dedicated preflight tools.
Built-in Preflight Tools
QuarkXPress, InDesign, and other page layout applications usually supply some level of preflight support. Table 2.9 shows some of the common page layout applications and their preflight tools.
Table 2.9:

Page Layout Applications and Their Preflight Tools

| Applications | Tool | Use |
| --- | --- | --- |
| QuarkXPress | Font Usage | Check for font activity and formatting. |
| QuarkXPress | Graphic Usage | Check for graphic links and formats. |
| QuarkXPress | Collect For Output | Gather document components: document, fonts, and graphics. |
| InDesign | Preflight Utility | Check for font and graphics usage as well as links and formats. |
| InDesign | Package Utility | Collect and package document, fonts, and graphics. |
| PageMaker | Save For Service Provider | Check for font and graphic usage as well as collect these items. |
| Publisher | Pack & Go | Gather fonts and graphics into a custom package. |
These application-based tools provide varying levels of sophistication and reliability. I would rank InDesign to be the king of the hill (see Figure 2.15), with Quark and Microsoft Publisher tied for second, and PageMaker a distant fourth. At a minimum you should use the tools provided by your page layout application to help you perform your preflight chores. However, if you create and therefore preflight a great many documents, you will likely find that using a dedicated preflight utility will be well worth the time it takes to learn and the expense of the purchase.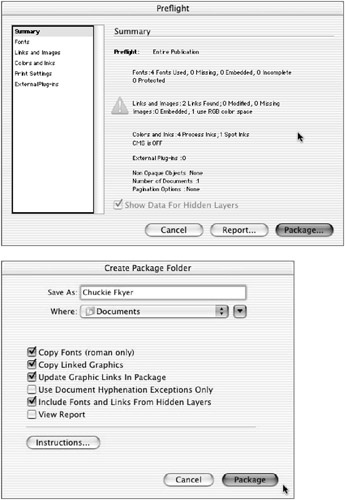 Figure 2.15:

InDesign preflight tools: The Preflight utility provides for basic preflighting; the Package tool provides a collection of document components.
Dedicated Preflight Tools
I have discussed at some length using the right tool for the right job. The same rule applies to preflighting. If you want consistent high-quality, fast, and full-featured preflight, get a dedicated preflight tool. The top of the line when it comes to preflighting is Markzware. Markzware has a variety of single-station, network, and even web-based preflight tools and options. Their main tool, called FlightCheck, comes in two flavors "Collect and Classic (Figure 2.16) "and their network/web tool is called MarkzScout. Extensis also offers a competent set of preflight tools called Collect, Preflight Pro, and Print Ready.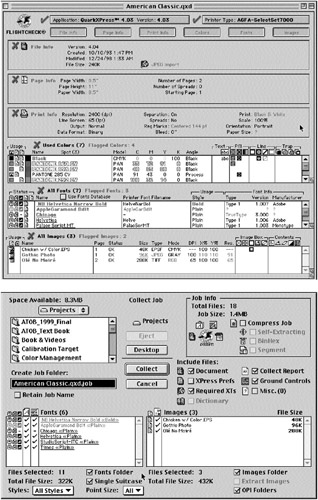 Figure 2.16:

Markzware FlightCheck Classic and Collect provide professional preflighting and file organization and collection capabilities.
The various tools provide increasingly sophisticated capabilities, with the topdrawer products such as Markzware s Classic and Extensis Print Ready providing not only professional-quality preflight but interactive tools that provide solutions and aids to fixing problems, as well as tools for batching files and streamlining preflight workflow. These tools will inspect and report on all aspects of your document, including file type info ; page geometry and setup; print settings; font usage, types, and problems; color space and assignment evaluation; and complete graphics evaluation. Not only are the preflighting capabilities of a tool such as FlightCheck better than those included in the page layout applications, but the collection components of the tools are far faster and easier and do a more consistent job. I have used FlightCheck for years and wouldn t let my documents leave home without it!
If you send your document and/or PDF files out to a printing company, they will perform their own preflight analysis of your file. So you might as well perform your own as well, saving you the time, expense, and embarrassment of having someone else finding the problems, or worse , risking the possibility that no one will find the problems and your file contains errors.
| | |
| --- | --- |
| Note | Part III of this book covers preflighting and editing the PDF files themselves . I want to emphasize here, however, that you will save yourself much time, energy, effort, and money if you perform the preflighting of your document before creating your PDF files. |
If you follow the recommendations in this chapter about document construction, font use, and file preparation and preflighting, you will have a complete document, which will be ready for you to convert into a PostScript file and then into a PDF. In the next two chapters we will tackle these next steps.
For a peek at Taz s Document Construction Guidelines and Taz s Top Ten File Prep Tips, visit www.tazseminars.com.