Along with the filters that ship with Paint Shop Pro, numerous third-party filters (often referred to as plug-ins) are available.
Installing Plug-ins
Installing a plug-in package that can be used with Paint Shop Pro is a multistep process:
The first step is to install the software according to the manufacturer's instructions. These days, that usually involves inserting a CD-ROM into the drive and following a couple of short instructions.

The most important point to note is where on your hard drive the plug-ins are installed.

Normally, you'll want to keep all your plug-ins in separate folders under one main folder. For example, you might create a Plug-ins folder under the Paint Shop Pro folder and store all your plug-ins in separate folders there.

The second step to installing your plug-ins is to tell Paint Shop Pro where they are on your hard drive, which is the reason behind making a Plug-ins folder. After you've installed your plug-ins, choose File, Preferences, File Locations.

Choose the Plug-in Filters tab to bring up the Plug-in Filters options (see Figure 40.7).

Figure 40.7. The Plug-in Filters options.

Enter the folder(s) where the filters are stored in the text box(es) at the bottom of the dialog box. For example, in Figure 40.7, I have entered C:\Program Files\ Jasc Software Inc\Paint Shop Pro 7\Plugins in the first folder area. You also can click the Browse button to find the appropriate folder instead of typing in the name .
The options you can set in the Plug-in Filters tab are as follows :
Enable Filters This option allows the use of external image processing filters. You should, of course, place a check mark next to this option if you want to use the filters you've installed.

Include Subfolders when Searching for Filters This option should be checked if you did as I recommended, and stored each plug-in package in its own subfolder.

Limit Loaded Plug-In Files to Those with an .8B? Extension Only This option should be checked if all the filters are 100 percent Photoshop compatible (which most of those available are). Paint Shop Pro enables you to use external plug-ins that are compatible with the industry standard. That standard is set by Adobe, the maker of Photoshop. Photoshop-compatible filters have a file extension that starts with 8B and ends with one other character. Normally, using only this type of filter results in fewer compatibility problems.

Enable Plug-In Automatic File Format Identification You can leave this option unchecked as I have done, or you can let Paint Shop Pro try to identify the file format of your filters.

Folder Names As mentioned previously, the next three entries in the dialog box are the most important. They tell Paint Shop Pro where to find your plug-ins.
With your plug-ins installed and with Paint Shop Pro aware of where they are, you should be able to find them under Effects, Plug-in Filters.
If you've installed Export filters, such as Ulead's SmartSaver, they will also be available under File, Export, Plug-in Export. Note that if you install filters while Paint Shop Pro is running, you might have to restart the program before the filters are available.
Alien Skin's Eye Candy
Eye Candy has long been one of my favorite plug-ins. It has some cool filters, such as Inner Bevel, Chrome, Fire, and Smoke. Figure 40.8 shows the Eye Candy dialog box for the Fire filter.
Figure 40.8. Alien Skin's Eye Candy dialog box Fire filter.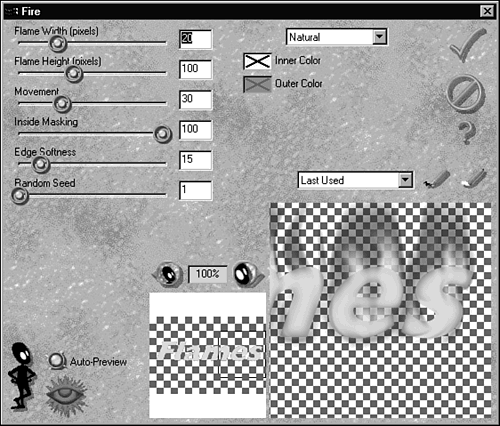 The Eye Candy dialog boxes are pretty much the same for all filters. The only changes are the particular options you can set.
One nice touch with the Eye Candy filters is the real-time preview window, which you can see in the lower-right corner of Figure 40.8. Figure 40.9 shows the result of applying both the Fire and Smoke filters.
Figure 40.9. Alien Skin's Fire and applied to some text in Paint Shop Pro.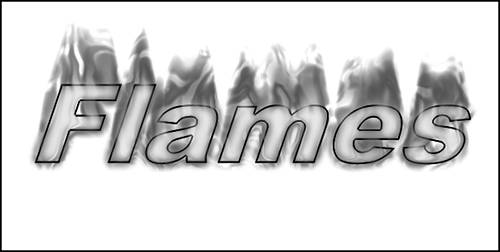 I've seen many tips on applying a fire effect to text, but none comes close to the Eye Candy filter. You can get a demo of the Eye Candy filters at Alien Skin's Web site (http://www.alienskin.com).
Auto F/X's Photo/Graphic Edges
Auto F/X is the creator of several amazing filter packages. One of my favorites is Photo/Graphic Edges.
Starting with the latest version, Photo/Graphic Edges operates as a standalone as well as a plug-in. That is, you can run it separately as well as from within Paint Shop Pro.
The Photo/Graphic Edges filter enables you to add complex edges to your photographs. You can also add certain effects, such as Sepia Tones, Grain, and Burns. Figure 40.10 shows the Photo/Graphic Edges dialog box.
Figure 40.10. Auto F/X's Photo/Graphic Edges dialog box.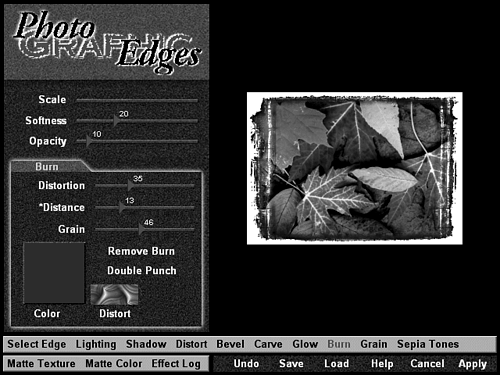 Figure 40.11 is the result of adding both an edge and a burn effect to a photograph of some fall leaves .
Figure 40.11. Auto F/X's Photo/Graphic Edges filter applied to a photograph of some fall leaves.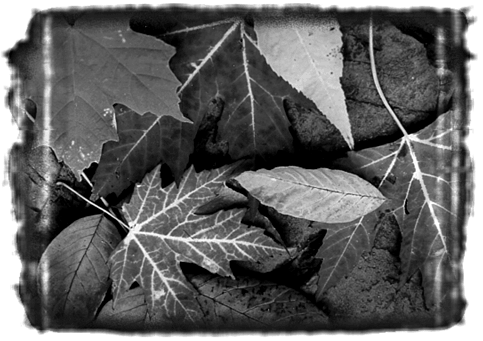 Along with the various effects that can be applied to an image with the Photo/Graphic Edges filter, you can select from a large gallery of edges that come with the plug-in.
Visit Auto F/X's Web site at http://www.autofx.com for more information and to download a demo of this cool plug-in.
Flaming Pear's BladePro
There is a lot of fuss over this "new kid on the block" on the Paint Shop Pro Internet newsgroup ( comp.graphics.apps.paint-shop-pro ), and rightly so. This really cool plug-in enables you to add textures, lighting, and bevels to your images. All you need to do is select an object and call up the filter (Effects, Plug-in Filters, Flaming Pear, BladePro).
Figure 40.12 shows a template I created for my Web site, GrafX Design (http://www.grafx-design.com).
Figure 40.12. Radioactive symbol template created for the GrafX Design Web site.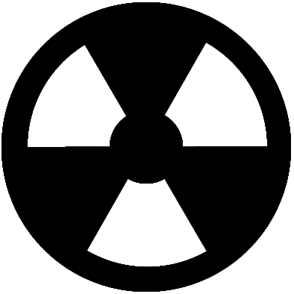 After selecting it with the Magic Wand tool, I used BladePro (see Figure 40.13) to add a texture called Lizard to the symbol.
Figure 40.13. Flaming Pear's BladePro dialog box.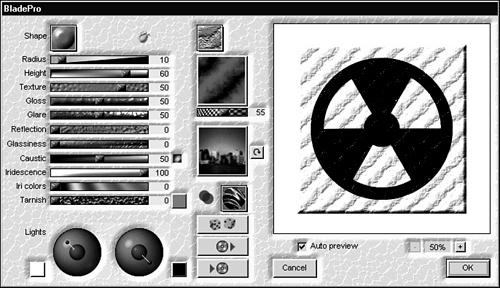 The result of applying the texture can be seen in Figure 40.14.
Figure 40.14. The Lizard texture from Flaming Pear's BladePro plug-in, applied to the radioactive symbol.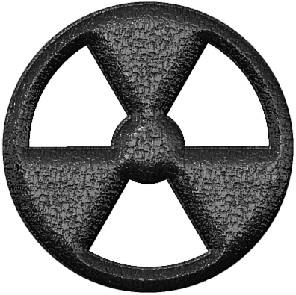 In addition to the extra textures and environments supplied with BladePro, many more are available from the Flaming Pear Web site (http://www.flamingpear.com/) and from other sites springing up all over the Web.
Typing BladePro into your favorite Internet search engine will undoubtedly turn up hundreds of sites where you can find more textures and environments for BladePro.
Of course, you can play around with the settings of the various options to create your own effects. These can be saved and passed on to friends or placed on your own Web site to be shared with the rest of the world.
To save a setting, click the bottom button at the middle of the interface. Clicking this button will bring up a dialog box where you can name and save your settings file.
Other Plug-ins
You can start finding cool plug-ins by checking out the demos of the ones I've mentioned here and the others listed at the beginning of this chapter. You're sure to find a product that meets your needs, whether it's to enhance your photographs or to help in the creation of Web graphics.