Before you can begin using HTML Assistant Pro to edit pages you've created in Composer, you need to know how to open a Composer page in HTML Assistant Pro.
Begin by opening HTML Assistant Pro. Choose File, Open to display the Open dialog box (see Figure 26.10); then browse to and open your Composer file.
Figure 26.10. Choose File, Open to browse for and open a Composer page in HTML Assistant Pro.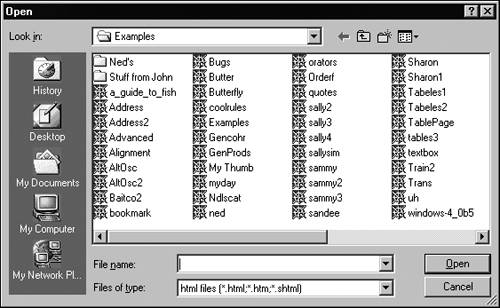 When finished editing the HTML of your page, save the file by choosing File, Save. Then re-open the page in Composer (to continue editing) or Navigator (to view the results).

Many of the HTML features you can add in HTML Assistant Pro cannot be previewed in Composer. You can view the proper effects of your HTML work in Navigator, but in Composer, some tags added by HTML Assistant Pro will show up not as they would appear online, but instead indicated by little yellow tag icons. These tags simply mean that you've used tags a browser would understand, but Composer doesn't.