Many first-time travel photographers develop a condition I call Copius Snaperitis Syndrome where the experience of taking pictures in a new place is so interesting that they take photos of everything they see. Symptoms include thousands of shots of doorknobs and poodles, the inability to put one's camera down, and a lack of actual "relaxation" due to the constant click, click, click of the camera.
If you're on an assignment for a client, then your job is to take photos and you shouldn't goof around until you've completed your assignment. But if you're on vacation, you're traveling to vacate, so don't' forget to occasionally put down the camera and head to the beach.
Figure 4.8. During a visit to Morocco, Reed Hoffmann came upon an official ceremony including mounted guards with rifles. "It was too good an opportunity to pass up," Hoffmann recalled, "so I asked if it would be OK to take pictures. When you don't know the local customs, it's smart to ask before shooting." (Photo by Reed Hoffmann)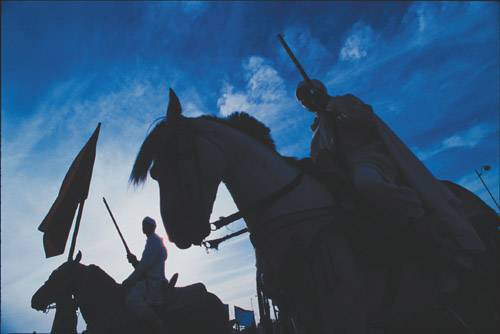 Photographs provide a lasting impression of your trip, but they're not the most important facets of your experience. Your memories, the things you'll carry with you forever, are priceless, and sometimes you can best capture those when you're not even thinking about photography.
The Lucky Trees
Blue Pixel's Bill Durrence was once leading a workshop in Tuscany when he had the group stop to photograph a tree-lined drive he had spotted earlier. The trees were thin but tall; they made a beautiful arc over the driveway.
While the group was standing on the main road trying to photograph the driveway without trespassing on the property, a car pulled up and an older man got out. Durrence assumed that the man would ask them to move on, but instead he explained that the driveway was his and that he had planted the trees as a young man.
After lamenting that he hadn't planted the trees farther apart, he invited the students to his home at the end of the drive where they were treated to a tour of his private art collection. His wife brought a tray of refreshments to the courtyard and served the students drinks and snacks, joined by the man's elderly mother and his brother and sister-in-law. One of Durrence's students spoke a little Italian and the family spoke no English, but it didn't matter. Everyone had a delightful afternoon.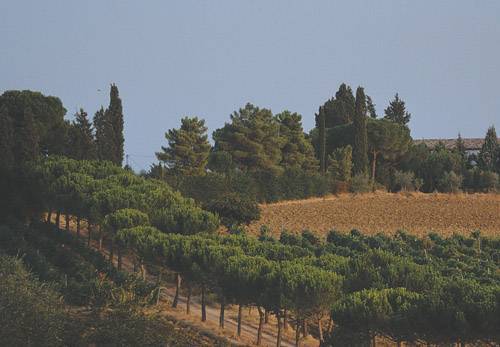 For All the Tea in Morocco
Blue Pixel photographer Reed Hoffmann experienced the sort of magical travel adventure that can be unlocked with a camera, a friendly disposition, and the willingness to "let the day take you."
"I was photographing the Eco-Challenge adventure race in Morocco in 1998," Hoffman recalls, "and I was in a section of the competition that passed through the Atlas Mountains. I managed to get a helicopter lift up to 9000 feet, and then climbed to the 13,000-foot summit the teams would soon cross.
"When I arrived at the summit I found it deserted, except for a Berber guide who had been hired to keep an eye on the radio equipment installed on the peak for the race. His name was Abdullah and as we chatted I discovered that no teams were expected to pass by for several hours.
"He invited me to join him in his tent, and over the next few hours we exchanged stories about our lives and our families. He made me green mint tea, a popular local drink in which fresh mint leaves are steeped and mixed with massive amounts of sugar. Abdullah joked that sugar was the drug of choice in Morocco.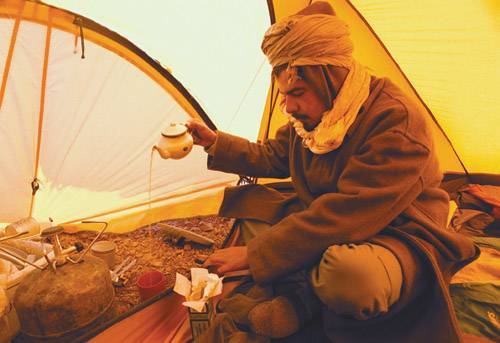 "By the end of our few hours chatting he had showed me how to wear the traditional Berber turban and we had exchanged addresses.
"Teams eventually started passing through and I got busy shooting, then headed back down the mountain before sunset. It was a great experience, and spending time with Abdullah is one of my favorite memories from Morocco."