Space Publishing Server
Combining the front-end and back-end NSP components into a single server provides a way for the owners of public facilities such as sports stadiums, airports, central city cores, parking structures, office buildings, and corporate campuses to make their property accessible to mobile applications. MSP 2.0 provides a standard way to request information about mobility in and around structures including travel within buildings. It also makes it possible for an upstream service provider to offer very accurate and detailed guidance at the beginning or destination phase of personal travel.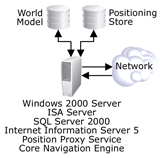 Space publishing server combines all NSP components
A space publishing server is normally built using a single server computer running Windows 2000 Server with SQL Server 2000, IIS and the low-level core navigation and position proxy services. In general, it is better to integrate with a large volume NSP over the Internet and make the connection through the NSP gateway, rather than a special interface point. This allows a large and varying number of SPSs to be associated with a NSP. The NSP may use UDDI or other directory services to find SPSs, or the SPS owner may have an explicit relationship with the NSP.
Typically an SPS owner makes money or saves on expenses by publishing. Access to the SPS is usually free to the user.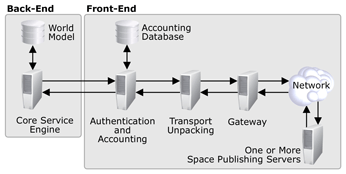 Integrating SPS with a NSP