18. Using the Recover Post Feature
BEFORE YOU BEGIN
15 Creating a Post Using the Blogger Editor in Compose Mode
16 Creating a Post Using the Blogger Editor in Manual Mode
18. Using the Recover Post Feature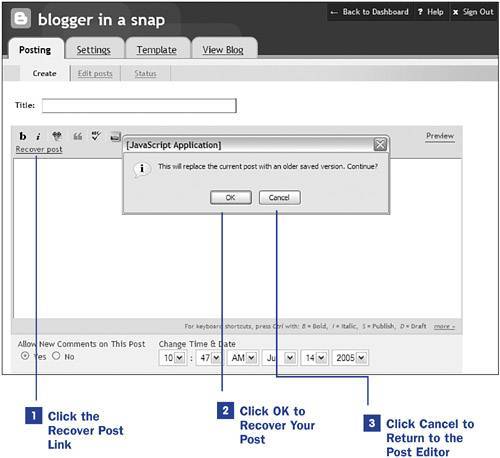 If you've spent any time on the Internetand for the sake of argument I'm assuming you haveyou know that sometimes your connection drops, websites become unreachable, your web browser decides to quit on you, you accidentally navigate off the page, and so on and so forth. If you compose your posts directly in the Blogger post editor, your worst nightmare might be an Internet connection that breaks while you're attempting to save a post, or a web browser that shuts down before you have a chance to click the Publish Post button.
Blogger has a feature that might eliminate some of the lost posts in those situations. As you type in the textarea of the Blogger post editor, the characters are saved in a cookie associated with your web browser and the blog you were working on at the time. If something happens and you need to recover your post, log back in to Blogger and click the New Post icon in the Blogs section of the Blogger Dashboard.
It might seem counterintuitive to select New Post when you want to recover a post that might exist somewhere in the ether, but the fact is that the information stored in your cookie has not become an actual, saved post. The following steps will lead you to your recovered post, if you perform them within 30 minutes of losing your connection to Blogger.
1.

Click the Recover Post Link

Under no circumstances should you type anything in the textarea before clicking this link! If you want to recover the text stored in your cookie, click the Recover Post link. You will see a prompt as in step 2.

If you begin to type in the textarea before you click the Recover Post link, the contents of the cookie will be replaced with the text you type, thus eliminating the previously saved text.



2.

Click OK to Recover Your Post

If you click the OK button, the stored text will be extracted from your cookie and placed in the textarea. At this point, you might want to immediately save the post as a draft to eliminate the possibility of losing the post again.



3.

Click Cancel to Return to the Post Editor

If you decide not to recover your text after all, click the Cancel button to return to the post editor. You can still choose to recover your text, as long as you do not begin to type in the textarea before doing so.


The Recover Post feature is an excellent addition to the Blogger editor, but it should not be relied on to save your text in all instances. The cookie can only store three kilobytes of text, so long posts might not be fully recovered. If you plan to write a long blog post, it might be worthwhile to compose the post offline in a text editor and simply paste the contents into the Blogger interface when you complete your composition.