The IBuySpy Portal has an administrative page. It allows users who belong to the Admins role to administer the application in several ways. Figure 18.6 shows the administrative page.
Figure 18.6. The IBuySpy Portal Administration Page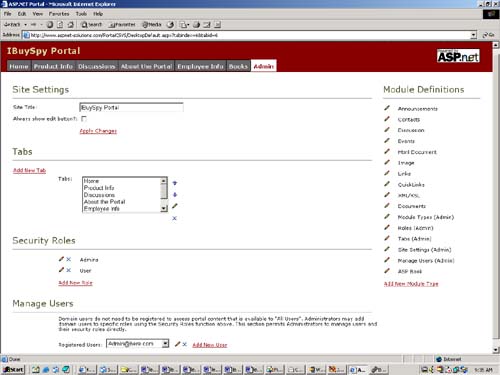 There are two items in the Site Settings section. The first is the Site Title, which is a simple editable field that allows the title of the site to be edited. The second item in this section is a check box that determines whether the edit buttons appear for the module content. If this box is checked, then a user who is in the Admins role can edit a lot of the information that appears in the portal modules.
The second section is entitled Tabs, and it allows you to add and edit tabs. We'll talk more about adding tabs in the section that comes later in the chapter entitled "Enhancing and Extending the Portal."
The Security Roles section allows new security roles to be added and existing roles to be edited or deleted. All of the roles in the database are listed. To delete a role, you simply click the X icon to the left of the role you want to delete. To edit a role, you just click the pencil icon to the left of the role you want to edit.
The Manage Users section allows you to delete, edit, or add users. A drop-down list contains all of the users found in the database.
The Module Definitions section lists all of the modules that can be found in the database. To the left of each module can be X and pencil icons (depending on the security role of the administrator the X icon may not appear). To delete a module definition, simply click the X icon. To edit a module definition, just click the pencil icon.