The federal civilian workforce at the National Aeronautics and Space Administration (NASA) has been generally shrinking over the years, as shown in the chart in Figure 2.1, from the NASA Office of Human Resources website.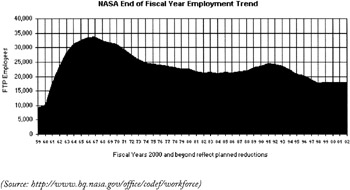 Figure 2.1: NASA End of Fiscal Year Employment Trend
The Senior Executive Service (SES) workforce at NASA has also generally decreased over the years, and the average age of an SES individual has been increasing across the various NASA Centers, as shown in Figures 2.2 and 2.3.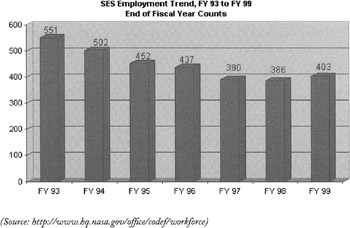 Figure 2.2: SES Employment Trend, FY93 to FY99 End of Fiscal Year Counts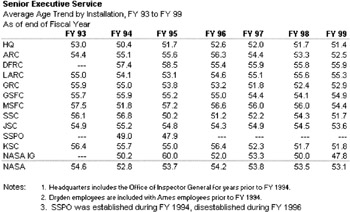 Figure 2.3: Senior Executive Service (Source: http://www.hq.nasa.gov/office/codef/workforce).
In looking towards the future, NASA's civilian workforce will still be getting smaller. According to NASA's Office of Human Resources, "seven out of ten NASA Centers have reached their target employment levels and can now revitalize their staff as new losses occur. Three Centers must still downsize. Hiring is very restricted at those Centers" (http://www.hq.nasa.gov/office/codef/workforce). The 16,742 losses in NASA full-time permanent (FTP) and other positions from FY1993 through June 27, 2002 are shown in the following statistics (http://naade02.msfc.nasa.gov/cgi-bin/ppdscgi.exe?XT=losses):
| | |
| --- | --- |
| FTP: | 11,042 persons |
| Other Non-FTP: | 2,882 |
| COOP: | 2,021 |
| Temporary/Term: | 615 |
| Part-Time Permanent: | 182 |
The NASA hires in these categories from FY1993 through October 5, 2002 was 11,305 hires. There were 4,928 buyouts during FY1994 through FY2001. As of the end of FY2002, the head count of all employee types of NASA federal civilians across the agency was 18,130 people, with 18.5 average years of federal service (http://naadeo2.msfc.nasa.gov/cgi-bin/ppdscgi.exe?XT=status_current).
The American Institute for Aeronautics and Astronautics (AIAA) states the following (http://www.aiaa.org/about/index.hfm?abo=280):
The Federal Government is not hiring and retaining an adequate number of freshouts from the Nation's key research and engineering universities— the government is no longer seen as an employer of choice by our most talented students. The existing technical workforce of the federal government is "graying" and we have a significant number of civil servants in key technical slots who are eligible to retire. The federal government appears unable to attract key talent from the private sector to serve in key science and technology management slots due to federal requirements on the transition of personnel from the private sector to the government and back.
In order to move NASA to the "green" color on the Human Capital Scorecard, Judy Tenney, of NASA's Strategic Management and Planning Division, mentioned in a May 2002 briefing that the standards to get to "green" are (http://nodis.hq.nasa.gov/dir_homepage/jtenney.ppt):
Human capital strategy aligned with mission, strategic goals, budget, and scorecards

Citizen-centered structure

High-performance workforce with flexibility to adapt to change

No skill gaps in mission-critical areas

Performance incentives linked to mission success

Human capital solutions using existing flexibilities, tools, technology, and competitive sourcing
Tenney indicated that some of the corrective action needed for NASA to move toward the "green" direction were:
Develop a comprehensive, integrated, and agile Agency Human Capital Strategic Plan

Align with NASA mission and goals

Help navigate through major human capital challenges

Incorporate strategies, tactics, and metrics

Integrate with other President's Management Agenda initiatives
NASA is trying hard to move towards the "green" strategic management of human capital. As Tenney points out, the following progress is being made:
NASA has developed a Strategic Human Capital Plan Architecture and Agency-Wide Human Capital Strategy.

There is improved use of existing recruitment and retention tools, networks, and so on.

NASA is pursuing civil service legislative reforms through NASA Authorization Act 2002.

NASA implemented a paperless hiring and promotion system.

NASA has an enhanced program management training.
Other agencies are moving in similar directions as those at NASA in order to minimize the ensuing human capital crisis in their respective civilian workforces.