According to Angela Gonzales' Business Journal article "Employers Beware, Labor Shortages Loom Ahead" (October 18, 2002), the United States is facing a shortage of workers in the coming years. Gonzales states that the U.S. Bureau of Labor Statistics projections report that by 2010 there will be 168 million skilled jobs to fill in the United States. However, there only will be 158 million people in the workforce to fill those jobs. The large number of retirees will not be replaced by the upcoming generation in the workforce.
A number of important industries are being hit hard. According to META Group's 2002 IT (Information Technology) Staffing and Compensation Guide, respondents from more than 600 medium-sized to large American corporations reported surprisingly high voluntary departure rates—over 10 percent. The META Group indicates that a turnover rate below 10 percent is relatively healthy, while higher than 10 percent turnover generally indicates an organization with fundamental issues that affect productivity and morale. The highest voluntary departure rates were reported in the transportation and distribution industry (20 percent), followed by media/publishing (18 percent) and healthcare (17 percent). According to the survey, the causes cited most commonly were economic conditions (33 percent), organizational restructuring (18 percent), and available skills (18 percent) (http://www.recruiter.com/052002_pr_it_i.cfm).
In a July II, 2002 briefing titled "Creating Long-Term Value for the Boeing Company," prepared by the International Association of Machinists (IAM) Strategic Resources and SPEEA Research (http://www.goiam.org/publications/boeingcreatingvalue.ppt), Boeing's long-term competitive advantage depends on human capital and physical capacity. In recent years, there has been cost-cutting, shedding of assets, and outsourcing. In addition, a human capital challenge exists throughout the aerospace industry due to attrition (retirements, resignations, layoffs), failure to attract and retain new people, and loss of accumulated skills, knowledge, and experience. Boeing's employment levels in recent years is shown in Figure 2.4.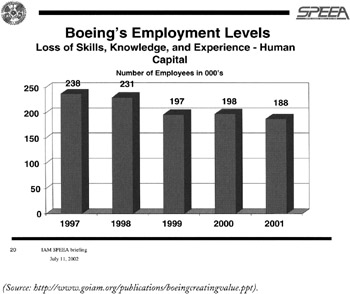 Figure 2.4: Boeing's Employment Levels
According to the IAM/SPEEA briefing, aerospace employment has been reduced by half in the last decade, from 1.2 million workers to about 500,000 workers. In the next decade, we are projected to lose 250,000 more jobs in the aerospace field. Also, there is an eroding industrial base and an aging and shrinking engineering and manufacturing community. Boeing hopes to leverage its competitive advantage to create value, but there are significant human capital challenges facing them and many others in the aerospace and transportation industries. Margaret Blair and Thomas Kochan, in their edited book, The New Relationship: Human Capital in the American Corporation (Brookings Institution Press, 2000), stress that human capital is the key asset for competitive advantage in American businesses. Additionally, Mark Abramson and Nicole Gardner's edited book, Human Capital 2002, published by the PricewaterhouseCoopers Endowment for the Business of Government, highlights these ensuing human capital crises facing American government and businesses.