1.1. Inside the Package
When you open the package, you should find the following (see Figure 1-2):
iPod photo

iPod power adapter

iPod photo Dock

iPod Dock Connector to FireWire cable

iPod Dock Connector to USB 2.0 cable

iPod photo AV cable

Apple Earphones

iPod Carrying Case
Figure 1-2. The iPod photo package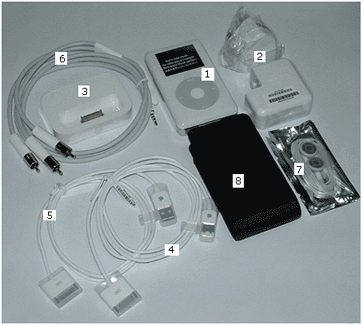 | | |
| --- | --- |
| | In the new iPod photo, Apple has stopped bundling the remote control. You need to buy the remote control separately. |
The new iPod photo looks exactly the same as the 4G iPod (see Figure 1-3) except that it is slightly thicker and a bit heavier. Of course, it has a color screen now!
Figure 1-3. The new iPod photo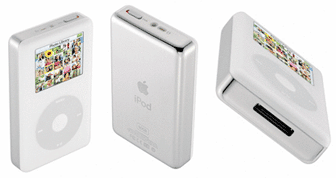 The iPod photo spots a 2-inch (diagonal) 65,536-color LCD with LED backlight screen (see Figure 1-4).
Figure 1-4. The dimensions and screen resolutions of the iPod photo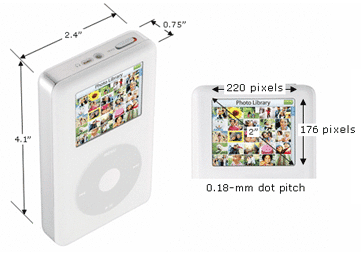 Table 1-1 shows the comparison in dimensions and weight of the 4G iPod with that of the iPod photo.
Table 1-1. Comparing the dimensions and weight of the iPod photo with the 4G iPod

| iPod | Dimensions | Weight |
| --- | --- | --- |
| 4G iPod (20GB) | 4.1 x 2.4 x 0.57 inches | 5.6 ounces |
| 4G iPod (40GB) | 4.1 x 2.4 x 0.69 inches | 6.2 ounces |
| iPod photo (40GB and 60GB) | 4.1 x 2.4 x 0.75 inches | 6.4 ounces |
| | |
| --- | --- |
| | The iPod photo can display images/photos in the following formats: JPEG, BMP, GIF, TIFF and PNG. |