---
6.5

UC-ADM-01: Create a user

In this use case, we show one way that an administrator could create a user in the secure portal implementation. This process creates the necessary user data both in TAM and LDAP. The full use case is described in "Administration use case details" on page 19.
6.5.1

Use case demonstration

This may be the Portal Administrator, the Access manager Administrator, a dedicated User Accounts Administrator or any person to whom the duties have been delegated (and has the appropriate permissions in the system). To demonstrate this use case, we utilize the commands user create and user modify at the Access manager Administration command prompt, as shown in Figure 6-15.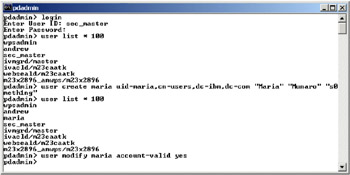 Figure 6-15: Commands to create a user
This use case is demonstrated with the pdadmin tool. Of course, this is perfectly valid and may even be appropriate for a small, static environment. However, this task would more typically be performed using a graphical tool such as the Access Manager Web Portal Manager. Alternatively, the Access Manager Self-Registration Application (which may have to be modified or enhanced to suit your environment) can be used. Note, however, that the Sign-up Page in WebSphere Portal cannot be used since it does not create the user account in the Access Manager User Repository. This is the reason why this functionality has been disabled during installation.
| | | |
| --- | --- | --- |
| | Tip | The user create command will also create the appropriate entry in the LDAP directory. If the user accounts already exist in LDAP, you can use the user import command. If the user accounts exist in another directory, you will have to export the data into an LDAP Data Interchange Format (LDIF) file and then import the accounts into LDAP using the ldapadd or bulkload utilities. For more information, refer to the Administration Guide for IBM Directory Server. You will then have to import all the users into Access Manager with user import. |
---