---
Here, we use the concept of horizontal and vertical linkages to gain a perspective on IOS configuration and develop a new framework for classifying IOS, with emphasis upon participants: customers, suppliers, affinity organizations, or competitors (Tapscott & Caston, 1993). Meanwhile, an IOS can be viewed in terms of its system support level: operational or strategic. Farbey, Land, and Targett (1995) suggested that operational applications focus on process automation and primarily aim at saving time and costs, while strategic applications are intended to achieve strategic goals and have the potential to transform entire businesses. The system might have been motivated either by the need to impact the way that the operations are performed or by the need to utilize the resources of multiple organizations strategically. Thus, our framework consists of two dimensions, role linkage and system support level, as shown in Figure 2.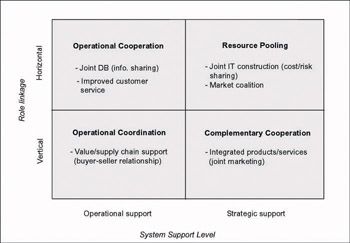 Figure 2: A framework for inter-organizational systems
Dimensions of Inter-Organizational Systems
Herein we draw distinctions between differing values of each dimension, to provide a logical basis for our framework.
Role Linkage
Horizontal - This linkage is formed via the interconnection of firms performing common value activities. It can be defined as the degree to which an IOS links a homogeneous group of organizations in order to foster their mutual cooperation. Homogeneous organizations share a common role-the contribution of identical inputs toward the augmented output.

Vertical - This linkage involves different roles of participating organizations that cooperate to add value to existing products or services. The classical IOS example, America Hospital Supply's ASAP, involves electronic links between the hospital supply distributors and the health care organizations. Such buyer–seller networks are typically designed to support the value chain.
System Support Level
Strategic Support - In recent years, the formation of partnerships and strategic alliances is becoming increasingly common, as it enables firms to either pool or share resources. Gurbaxani and Whang (1996) argued that the incentives for resource-oriented cooperation include exploitation of the economies of scale in operations and transaction costs. Konsynski and McFarlan (1990) suggested that the driving force in an "information partnership" is the sharing of large investments in hardware and software to reduce potential risk as well as of training expenses. Sharing technical burden may motivate firms to join the information partnership, especially when a project demands high-level skills and expertise. In addition, interfirm cooperation can be motivated for a behavioral reason; partnering between firms can standardize on an interface so that users do not have to learn different interfaces at different firms (Applegate et al., 1996). More recently, IOSs linking firms for their reciprocal relationships are noticeable.

Operational Support - The IOS can be created for the primary purpose of supporting routine operations. Firms can connect to merely share each other's information as part of their day-to-day business or to support a value or supply chain. When an IOS of this category is implemented, it fundamentally transforms the business processes of the participants to increase the operational efficiency and makes a participant operationally dependent upon the IOS. Unlike the strategically oriented IOS, the IOS for operational support causes the participants' operations to be integrated, creating exit barriers.
The Four Categories of IOSs
Depending on the role linkage and the motivator, IOSs are categorized into four types: (1) resource pooling, (2) complementary cooperation, (3) operational cooperation, and (4) operational coordination. The classification framework is shown in Figure 2.
Resource-Pooling IOS
Belonging to this category are those IOSs that link the participants performing common value activities (i.e., rival firms) in order to permit risk- or cost-sharing by pooling their resources. This type, in general, aims at forming a coalition to compete with large firms or in expanding markets.
IVANS (Insurance Value-Added Network Services) - Frequently cited in the SIS literature, this is a group of independent insurance companies with thousands of agents. The system was created by the industry trade association, ACORD, to cope with their loss of market share to direct sales forces from State Farm Allstate. The IOS allows independent agents across the United States to access property and casualty insurance companies for policy issuance, price quotation, and other information (Newmann, 1994).

ECONOMOST - McKesson Corporation, a distributor of drugs, health- care products, and other consumer goods, built ECONOMOST, a form of order entry and inventory management system, that interconnects the independent drug stores that exclusively sell McKesson's products. This horizontal linkage was formed by a coalition of the independent drugstores and was intended to challenge the market attack by large drug chains. This form of partnership, in which small companies seek the advantages of vertically integrated companies, is referred to as a VAP (value-adding partnership). The VAPs secure economies of scale by sharing such resources as purchasing, warehouses, research and development centers, and information.

Garden.com - More recently, Garden.com created an Internet-based IOS to respond to customer needs. It uses the Internet to interconnect over 70 flower growers and uses the network to deliver flower orders within 2 days. When a customer places an order, it is transmitted to the appropriate supplier over the company extranet. Although there are many flower growers in America at the regional level, there was no way to make their products available to national customers, because their primary target was local customers. Thus, Garden.com used the Internet to bring together the inventories of the regional growers to buyers scattered throughout the nation. This company was able to pool together the resources of the individual flower growers to build national-level giant-volume inventories, while at the same time increasing the speed of responding to customer needs.
Complementary Cooperation IOS
This category represents a form of cooperation between firms playing different roles in an industry value chain; it allows them to expand the business capacity beyond the limit of the resources possessed by a single firm, thereby enlarging its "virtual resources." The prime purpose of this partnership is market access via complementary advantages.
UAL and SAS - Air carriers, including UAL and SAS, have attempted to offer an integrated travel service that combines the airline, car-rental, and hotel businesses using a CRS. The prime motive of the virtual vertical integration along the service value chain is to provide the traveler with a convenient value-added service.

Citibank - A global financial institution, Citibank allied with American Airlines, Mariott Hotel, and a national supermarket chain to offer the CityCard and use a computer-based network to capture the data of point- of-service (POS) transactions processed through the CityCard into a database. Citibank used this to give bonus points for purchases exceeding a certain amount, to offer product discounts by electronic coupons, to give rebates on select product purchases, and to connect the POS database to an electronic payment system so that the purchase amount charged to the credit card would be automatically withdrawn from the customer's bank account. Meanwhile, Citibank created Citisatcom, a satellite communication network to facilitate the operations of the regional credit card centers. It relied only on the Global Transaction Network to ally itself with banks in the United States and Japan.

Reuters Holding PLC - A reputed British news agency, Reuters, had been losing money in 1973. In an attempt to regain competitiveness, it used its worldwide news agency network to collect and market information of high value. The company interconnected the 127 commodity and other exchanges via a telecommunications network and built a Reuters Monitor Service (RMS) to offer commodities and financial information. In addition, they acquired a firm that owned vast databases of financial information and constructed the Integrated Data Network (IDN) that permitted trades with 114 countries around the globe.
Operational Cooperation IOS
This type of IOS brings together firms in a common value chain primarily to improve the quality of service or to share information of common interest. Thus, by agreeing with rivals to collaborate on some common operations, firms can together create a huge virtual organization that allows them to operate as though they were a single company.
AutoNetwork - Developed for a cluster of used part suppliers, AutoNetwork is a good example of using an IOS technology to create a virtual warehouse that, in fact, consists of many individual suppliers. Automobile dismantlers, often called wrecking yards, sell reusable parts to garages, body shops, insurance companies, and individuals, and it is important for them to exchange part availability information. The traditional voice hotlines (basically telephone networks of auto dismantlers) have been replaced by a computer network that interconnects the dismantlers. A parts request is sent in an e-mail message to all the parties joining the network; anyone who has the requested part replies accordingly. The virtual warehouse of user parts therefore functions as a large central warehouse to help locate parts more effectively.

Sabre: The well-known airline reservation system created by American Airlines is another example in this category. While the system is typically known as a classical example of an IS used as a competitive weapon, it also allows airlines to form a horizontal partnership to enable operational cooperation via shared databases. The joint database enables inter-airline collaboration on day-to-day operations, such as exchange of frequent flyer points, and this can help to improve customer satisfaction.

Travelers insurance company: This is one of the companies providing managed health care; it focuses on maintaining standards of health-care quality, as well as on controlling increases in health-care costs. The essence of managed care is information; the company created the CareOptions medical management system to provide medical personnel access to large databases with millions of case histories to guide treatment decisions for patients. The goal was to make the correct diagnosis the first time without unnecessary tests, etc. The system represented a combination of local medical expertise with the administrative resources of a national company. The providers, customers, and insurers access information on how patients' conditions were diagnosed and treated, what each provider did, and the outcomes. This is part of a strategy to make available a huge volume of experience to make better clinical decisions.
Operational Coordination IOS
An IOS can be configured to interconnect differing roles played by firms serving an industry value chain so as to increase the operational efficiency.
Nike, Inc. - This U.S.-based manufacturer outsourced athletic footwear production to contractors in Asia to focus on product design and marketing; that is, they vertically disintegrated their value chain. In the 1980s, the technicians who had been charged with control and coordination over the production process were replaced by an IOS that linked U.S. designers with Asian contractors using a CAD/CAM system. The coordination and control system built by Nike monitored each phase of the production process from design through sales.

Zephyr - To decrease procurement processing time, Lawrence Livermore National Laboratory (LLNL) developed a paperless procurement system called Zephyr which improves procurement processing time by 90%. Because traditional procurement processing based on paper can create delays, LLNL designed Web pages for its engineering and procurement departments. Vendors respond to procurement's Web page with quotes, and the winning bid is then awarded the same day via the vendor's Web page on the LLNL site. Upon shipment of the item, the vendor initiates a credit card transaction that results in a transfer payment to the vendor's bank. Typically, electronic payments occur 48 to 72 hours after the shipment notification.

CFAR - Wal-Mart Stores, a retailer, and Warner-Lambert Company, a manufacturer, announced that they were engaged in a pilot project initiated by Wal-Mart, known as Collaborative Forecasting and Replenishment (CFAR) (Computerworld, 1996). The CFAR system was designed to allow linked companies to collaborate on developing joint demand forecasts and production schedules through Internet and EDI networks (Raghunathan, 1999). Warner-Lambert is currently loading forecast data it receives from Wal-Mart directly into their enterprise demand planning system. Because CFAR allows exchange of complex decision support models and manufacturer/retailer strategies, the savings in inventory and manufacturing costs can be realized.

Manheim Auctions - This Atlanta, Georgia-based automobile auction company recently launched an Internet-based IOS that allows retail dealers to purchase used vehicles via electronic auctions. In the existing environment, dealers had to gather in the auction market and purchase and transport used vehicles to their lots, resulting in considerable cost. The Web-based IOS relieved dealers of the burden of paying auction costs when buying vehicles. The system now allows dealers to view a list of used cars along with related photographs by simply entering a set of conditions for a desired car. In addition, dealers no longer have to purchase vehicles in advance, thereby eliminating much of the risk (Stefanov, 1999).
---