The key to allowing Flash to incorporate pixel fonts is to design a font that looks like a bitmap font but works like a regular font built from outlines (see Figure 4.5).
Figure 4.5. Bitmap versus vector outlines.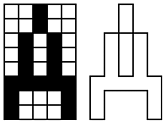 This bitmap emulation can be embedded in Flash and remain aliased in Flash at any quality, as long as it is used properly. The next section discusses how to use my fonts in Flash so that you can start using aliased fonts in your next Flash project.
| | |
| --- | --- |
| | If you would like to use pixel fonts that work in Flash, please visit my web site at www.miniml.com. On the web site, you will find free versions of my fonts to experiment with for personal purposes as well as professional commercial sets that are available at a reasonable price. |