The Capacity Bar
The most important area on the entire interface is the bar that runs along the bottom of the Export dialog; it indicates how much room your project takes up on a single DVD (Figure 12.22). You can see this line no matter what tab you are in.
Figure 12.22. The capacity bar lets you know when your Timeline is too big for the DVD.

As the line approaches the right side of the box, it indicates that the DVD is nearing its maximum capacity. If the line flashes at you in red, this indicates that your project is too big. You either have to reduce its size or tweak the data rates you're using to burn the DVD so that it all fits on.
By default, the data rate is reduced automatically to fit your project on the DVD. If Liquid Edition detects a large project, then the data rate reduces until the project fits. However, a reduction in data rate means a reduction in overall quality, and this might not be what you want.
To turn off the automatic data reduction, check the Don't correct size option on the Options tab of the Export dialog. When you do so, the data rate reverts back to normal (Figure 12.23).
Figure 12.23. Turning off the auto size reduction feature in the Options tab.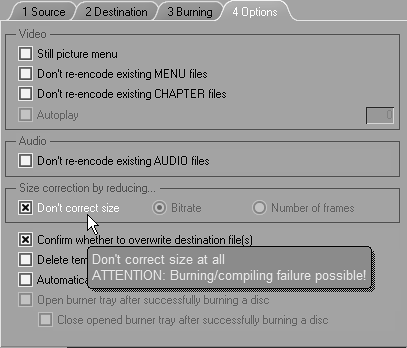 Once you've disabled this feature, you can see the true size of your project at the data rate you've selected. But as the warning says, disabling this feature may also cause your DVD to fail if the Timeline exceeds the DVD's limit.