Mike Daugherty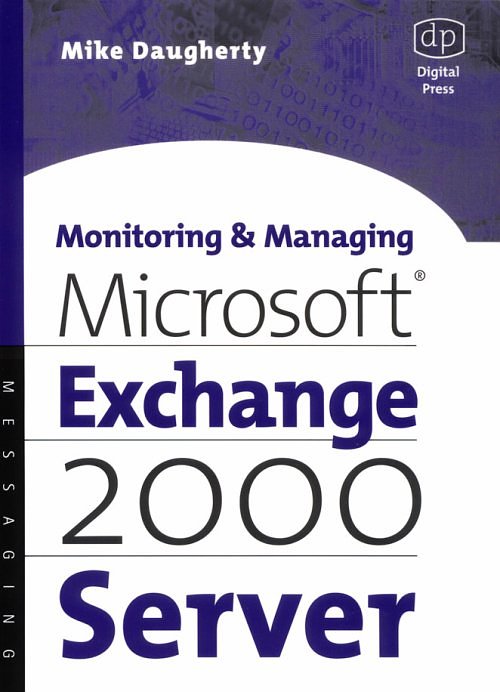 Copyright 2001 Butterworth "Heinemann
A member of the Reed Elsevier group
All rights reserved.
Digital Press is an imprint of Butterworth "Heinemann.
All trademarks found herein are property of their respective owners .
No part of this publication may be reproduced, stored in a retrieval system, or transmitted in any form or by any means, electronic, mechanical, photocopying, recording, or otherwise , without the prior written permission of the publisher.
Butterworth "Heinemann supports the efforts of American Forests and the Global ReLeaf program in its campaign for the betterment of trees, forests, and our environment.
Library of Congress Cataloging-in-Publication Data
Daugherty, Michael.
Monitoring and managing Microsoft Exchange 2000 Server / Michael Daugherty.
p. cm.
ISBN 1-55558-251-6 (pbk. : alk. paper)
1. Microsoft Exchange Server (Computer file) 2. Client/server computing. I. Title.
QA76.9.C55 D38 2000
005.7'13769--dc21
00-047554
The publisher offers special discounts on bulk orders of this book.
For information, please contact:
Manager of Special Sales
Butterworth "Heinemann
225 Wildwood Avenue
Woburn, MA 01801-2041
Tel: 781-904-2500
Fax: 781-904-2620
For information on all Butterworth "Heinemann publications available, contact our World Wide Web home page at: http://www.bh.com.
10 9 8 7 6 5 4 3 2 1
Related Titles From
Tony Redmond, Microsoft Exchange Server for Windows 2000: Planning, Design and Implementation, ISBN 1-55558-224-9, 1072pp, 2000, $49.95
Kieran McCorry, Connecting Microsoft Exchange Server, ISBN 1-55558-204-4, 416pp, October 1999, $34.95
John Rhoton, Programmer s Guide to Internet Mail:
SMTP, POP, IMAP, and LDAP,
ISBN 1-55558-212-5, 312pp, October 1999, $39.95
Jerry Cochran, Mission-Critical Microsoft Exchange 2000: Building Highly Available Messaging and Knowledge Management Systems, ISBN 1-55558-233-8, 320pp, 2000, $34.95
Micky Balladelli and Jan De Clercq, Mission-Critical Active Directory: Architecting a Secure and Scalable Infrastructure,
ISBN 1-55558-240-0, 512pp, 2000, $44.95
For more information or to order these and other Digital Press titles please visit our website at www.bhusa.com/digitalpress!
At www.bhusa.com/digitalpress you can:
Join the Digital Press Email Service and have news about our books delivered right to your desktop

Read the latest news on titles

Sample chapters on featured titles for free

Question our expert authors and editors

Download free software to accompany select texts