In the section, we begin to explore the ColdFusion Administrator, how it works, and some common settings that you can adjust to complete common administrative tasks or tweak the performance of your server. Although the Administrator itself has changed slightly with the release of ColdFusion MX, the layout is still familiar if you've worked with previous versions of ColdFusion. Figure 25.1 demonstrates the layout of the ColdFusion Administrator as it exists in ColdFusion MX.
Figure 25.1. Main page of the ColdFusion MX Administrator.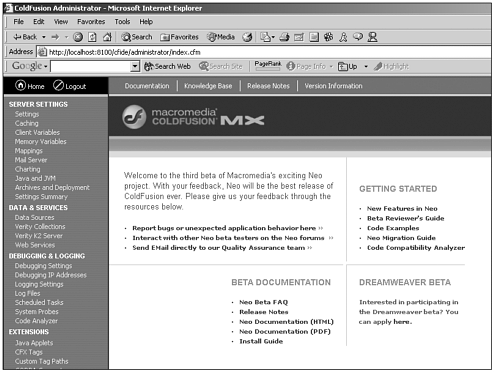 As you can see, the Administrator is divided into three main panes. The left pane, used for primary navigation through the Administrator, contains links to all the other settings that can be accessed through the Administrator. The main window is where you actually adjust settings or make changes. Finally, the top pane contains links to the Macromedia Knowledge Base, any documentation you might have chosen to install, and a link to get more information with your server.
We will be looking at all the settings that you can adjust in this section and what effects changes to those settings have on your server.
The ColdFusion Administrator can be found (by default) at http://servername/cfide/administrator/index.cfm. After you get there, you be presented with a simple login page. Here you enter the Administrator password that you set up during install, and then you are sent to the Administrator home page. This is the page you see in Figure 25.1.
At the home page, you can choose from a variety of other areas that you'd like to examine by using the left navigational menu. The left navigational menu is divided into several distinct categories. The first of these categories is Server Settings.